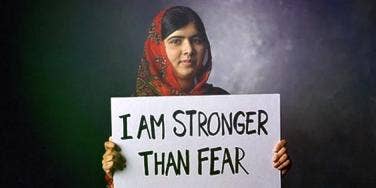 She is the voice of our generation.
Even though we're living in the 21st century, the differences between the way men and women are treated still stretches for miles.
From getting equal opportunities in the workforce to having the right to an education, it's scary to think how far behind we actually are when it comes to things that should pretty much be a given.
Honestly, the fact that we are still fighting for women's rights, something that shouldn't have to be earned in the first place, says a lot about the world we live in today.
But on October 10, 2014, that gap got a little smaller when Pakistani activist Malala Yousafzai made history by becoming the youngest women to be awarded a Nobel Peace Prize award.
Hearing her acceptance speech, littered with motivational quotes on why we should fight to even the fields when it comes to education for women, was completely awe-inspiring.
What makes this moment even more deserved and rewarding is the fact that her journey to helping girls gain the right to attend school in Pakistan hasn't been smooth sailing.
When she was just 15 years old, Yousafzai was shot in the head by a member of the Taliban for advocating for girls' education.
The fact that this did nothing to stop her from fighting for women everywhere, and instead motivated her to keep going, makes her an inspiration to us all.
You don't have to be a woman to understand just how brave Malala Yousafzai is for putting her life on the line so that all girls can go out and truly experience theirs.
These quotes are proof of that.
If you're looking for a little inspiration, we've got the best quotes to share and savor. For quotes from the most inspiring celebs, activists, and poets, look no further! You might even find the quote that motivates the best parts of your life (and love!) forever.
One voice is all you need.
"When the whole word is silent, even one voice becomes powerful."
Just one person can make a difference.
"One child, one teacher, one book, and one pen can change the world."
A girl with a book.
"Extremists have shown what frightens them most: A girl with a book."
Stronger than fear.
"I am stronger than fear."
Be brave.
"I said to myself, Malala, you must be brave. You must not be afraid of anyone. You are only trying to get an education. You are not committing a crime."
A woman's right.
"If a woman can go to the beach and wear nothing. then why can't she also wear everything?"
Don't be afraid.
"All I want is education, and I am afraid of no one."
Think of the future.
"I dreamt of a country where education would prevail."
Raise your voice.
"I raise up my voice—not so that I can shout, but so that those without a voice can be heard."
Silence speaks volumes.
"We realize the importance of our voice when we are silenced."
The power of women.
"The extremists are afraid of books and pens. The power of education frightens them. They are afraid of women. The power of the voice of women frightens them."
Our most powerful weapons.
Let us pick up our books and pens, They are our most powerful weapons. — Malala Yousafzai
The story of women.
I tell my story, not because it is unique, but because it is not. It is the story of many girls. — Malala Yousafzai
The gun has no power.
I believe the gun has no power at all. — Malala Yousafzai
Never lose hope.
Even if I am a girl. Even if people think I can't do it, I should not lose hope. — Malala Yousafzai
Education is essential.
When someone takes away your pens you realize quite how important education is. — Malala Yousafzai
We are looking at them.
My mother always told me, "hide your face-people are looking at you." I would reply, "It does not matter; I am also looking at them." — Malala Yousafzai
We just need ONE.
If one man can destroy everything, why can't one girl change it? — Malala Yousafzai
Love everyone.
This is what my soul is telling me: Be peaceful and love everyone. — Malala Yousafzai
Previous
Next
BEGIN