Photo: WeHeartIt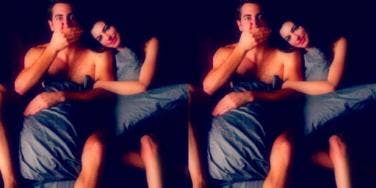 We're taking you through 5 hilarious naked scenes from the big screen.
Although National Nude Day is behind us now (no pun intended), it's our duty to appreciate the naked body as much as humanly possible.
So, to celebrate this amazing holiday year-round, we're looking back at some of the most hilarious movie scenes involving nudity. Not only are these actors super funny and entertaining, but they're naked too!
Whether these flicks are about football, marriage, or "making love" to a pie, the characters in them are stripping down to make us laugh out loud. So have a peek at our top five choice and enjoy a good laugh, remembering these great scenes.
1. American Pie
There are so many funny and embarrassingly traumatic scenes in the first American Pie (and every follow-up movie) that we're not going to pick just one. If we had to, we're sure you know what scene we'd refer to ... but we'll just leave it by saying there's a reason why American Pie is one of the most popular comedies of all time.
2. Forgetting Sarah Marshall
In Forgetting Sarah Marshall, Jason Segel's character gets dumped by the love of his life, played by Kristen Bell. The best part? He's totally naked throughout the whole devastating scene and doesn't care. Actually, he refuses to put on clothes as all his naughty bits dangle out in the open (and right in front of the camera). Poor, poor Kristen.
3. The Proposal
A fully naked, wet Sandra Bullock running straight into a fully naked, sweaty Ryan Reynolds? Yes, we'll take it. The "Why are you naked?!" ... "Why are you wet?!" dialogue is so funny. Not to mention, the fact that these real-life friends were actually bare while filming the scene makes it even better. Oh, and how could we forget this whole incident occurred because Sandy was running away from a little puppy. Simply hilarious.
4. Varsity Blues
Now we see Ali Larter all grown up, but looking back, we remember her as a young whipped-creamed teenager in her big-screen debut in Varsity Blues. It made it that much cooler when the moment landed as number nine on Maxim magazine's list of "Earth-Shattering Nude Scenes." Her very sticky way of coming on to a guy was hilarious and, if we must say so, extremely sexy.
5. Love and Other Drugs
In this funny and emotional film, Anna Hathaway and Jake Gyllenhaal bare it all... over and over again. When she shows up to surprise him at his apartment in a trenchcoat—and nothing else — we can't help but laugh along when it's the roommate who gets to see all of her naughty bits instead!
Previous
Next
BEGIN