Photo: WeHeartIt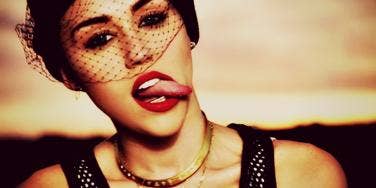 What do they all mean?
Art is how we decorate space, music is how we decorate time and ink is how we decorate our skin. Tattoos are a way to personalize your body, permanently adding images that'll tell a small piece of your life's rich story. Just remember to use your good ol' friend, spell check, before inking on your favorite quote!
Now, celebrities are known for sporting some pretty crazy and wild tattoos. From Steve-O's hilarious self-portrait that spans the entirety of his back, to Cara Delevingne's tribute to bacon hidden on the sole of her foot, celebrities sure know how to have fun with their body art.
Whenever there's a chance to express oneself in a crazy and wild fashion, the twerking songstress, Miley Cyrus, won't be very far behind. The rebellious pop star has over 36 tattoos, and her collection of ink continues to climb with each passing day.
Some of her art is incredibly sweet, like the portrait of her grandmother etched on her right arm and the tributes to her deceased pets, her Alaskan Klee Kai named Floyd and her adorable puffer fish.
As kind as those tats are, Miley Cyrus also sports some equally bizarre art choices. Her fingers adorn an alien head and an inverted triangle later transformed into a watermelon slice, and her inner lip houses a tattoo of a colorful little kitty.
You might think her tattoo choices are a bit odd, but as her song lyrics describe, "Oh she's just being Miley." So sit back, relax and grab your nearest bag of popcorn as you gaze through Miley Cyrus's impressive collection of tattoos.
Just Breathe
Miley's tattoo collection began with the words "Just Breathe" scooping across her upper ribcage, at the age of 17.
The tattoo honors the memory of her two grandfathers who died of lung cancer, as well as her friend Vanessa who died of the vicious lung disease, cystic fibrosis, in 2007.
Miley has commented, "It reminds me not to take things for granted. I mean breathing— that was something none of them could do, the most basic thing. And I put it near my heart, because that is where they will always be."
Grandmother
Miley Cyrus pays tribute to her grandmother, Loretta Finley, with an intricate portrait of her likeness etched on her right forearm. The hand behind this black and white masterpiece was non other that the esteemed tattoo artist Kat Von D.
Miley tweeted out this image of her tattoo stating simply, "because I am her favorite & she is mine."
Sad Kitty
One of the more interesting art choices of Miley's collection is her sad kitty tattoo. Hiding on the inside of her lower lip is a colorful yellow kitty with a big blue tear streaking down its cheek.
Photo: ZestyFashion, StealHerStyle, WeHeartIt
Tongue, Triangle, Watermelon
Miley Cyrus's right middle finger has gone through some changes over the years. First she debuted a miniature tongue, mirroring her signature move.
Then, the tongue was redone into an inverted triangle, which was later colored in to resemble a watermelon slice.
Floyd The Dog
A tattoo, honoring the memory of Miley Cyrus's deceased dog Floyd, resides on her left rib cage. The head of her late Alaskan Klee Kai is the focal point, circled by the words, "With a little help from my fwends."
Smiley Face
Miley and her assistant, Cheyne Thomas, got matching BFF tattoos. To commemorate their friendship, they each got a smiley face tattoo on their ankles ... but the craziness doesn't stop there.
They each tattooed this simple inked smile on each other! Now that's what I call trust.
Crescent Moon
A small crescent moon sits on the inside of Miley Cyrus's left arm, created by the well-known tattoo artist Bang Bang.
At the moment, there's no deep meaning behind this adorable addition to Miley's body art, calling the tattoo "random," so perhaps its simple aesthetic caught the pop star's eye.
Love Yer Brain
Tattooed on her right forearem are the words "Love Yer Brain." Miley paid tribute to her favorite band, The Flaming Lips, by permanently remembering their title track, "Love Yer Brain" of their 1987 album Oh My Gawd.
I'm In Your Corner
Miley's right arm shows the words "I'm in your corner" followed by a signature by the country music icon, Johnny Cash. This tattoo is perhaps a tribute to both her father and the famous music star.
"I always feel like Johnny Cash is not very far from me," explains Billy Ray Cyrus, Miley's father.
He continues on how the legend's words, such as "I'm in you corner" has helped him through the rougher areas of life, "I will always keep a little bit of that inspiration close to me, inside of me."
Wukong
Miley Cyrus added a tattoo for her brother, Braison, inking on the her brother's nickname "Wukong" on her wrist. Miley explains, "I call my brother 'Wukong,' it's a monkey king so I got [the tattoo] for him."
Alien
A cute black and white alien head sits atop Miley's right ring finger. This tattoo is the latest random addition to her ever-growing finger tattoos.
Cat
The head of a sweet-looking cat found a cozy spot on Miley's left arm. The friendly feline mixes colors of brown and grey, staring at the world with piercing green eyes.
Robot
Tattooed on Miley's left arm in the outline of a miniature robot. This image is a scaled-down representation of the giant pink robot featured on the Flaming Lips' 2002 album cover, Yoshimi Battles the Pink Robots.
Naked Woman
Miley's left ribcage added another major piece of ink, now sporting the coy image of a naked woman. There has been no announcement of the woman's meaning, but her seductive pose is a guaranteed head turner.
Puffer Fish
"I hate goodbyes," are the words Miley posted to Instagram to remember her darling pet puffer fish that she'd recently lost.
Tattoo artist Dr. Woo of the Shamrock Social Club posted a picture of Miley's new inked reminder of her late pet fish.
Biewty
The words "Biewty" reside under Miley Cyrus's left arm, which her assistant Cheyne Thomas has as well.
It's believed that "Biewty" is the phonetic spelling of the world "Beauty," and since her nickname for her assistant is "Biew" the tattoo takes on a sweet double meaning.
Tooth
Near Miley's right elbow sits a little black outline of a tooth. This is a friendship design to honor her buddy and Flaming Lips member, Wayne Coyne.
Rolling Stones
Inked on the bottom of her feet are the words "Rolling Stones" ... or should I say "Rolling $tones." The idea came to Miley while brainstorming some fun activities for her and Josh Eells, contributing editor for Rolling Stones Magazine, to do:
"I thought we were going to play laser tag, but laser tag sucks. And we could have gone bowling, but what are we, 90?"
I guess after laser tag and bowling, getting a foot tattoo was the next logical idea.
Claw
Inked by Kat Von D herself, a large black and white claw or tooth design sits on Miley's right arm, resembling those adorned by the world's most vicious predators.
The common theory of the tattoos meaning links to Miley's Cherokee Indian roots, with the bear symbolizing power, strength and leadership.
Anatomical Heart
Miley Cyrus and Kat Von D have paired up to create an intricate tattoo of Leonardo da Vinci's famous drawing of a human heart.
After finishing the complex design, Kat Von D excitedly posted to twitter, " Just did the RADDEST tattoo on @MileyCyrus—a miniature rendition of da Vinci anatomical heart!"
Love
The inspiring word "Love" curves around Miley's right ear.
Miley told Access Hollywood, "I have 'Love' right here to block out all the crap that everyone throws into your ears ... I don't really care about it. [You're] only supposed to hear the things coming from the people who genuinely love you."
Heart
Miley Cyrus has the tattoo of a little heart on her right pinky finger, later filled in with a stellar galaxy background.
It seems Miley followed in her parents' footsteps, with her mom and dad having the same heart tattoo on their left hands.
Billy Ray Cyrus explained in an interview, "We were sitting beside each other [in church] and I noticed she just picked up my hand and she drew this little heart on there..." What a sweet tattoo origin story!
Cross
A little black cross resides on the inside of Miley's right ring finger. Perhaps this tattoo represents her Christian upbringing and her views on having faith throughout life.
Dreamcatcher
A large dreamcatcher gracefully sweeps down the right side of Miley Cyrus's ribcage. A homage to her Cherokiee heritage, the dreamcatcher tattoo has four feathers at its base, giving protection to her four siblings.
Peace Sign
Miley Cyrus has a peace sign tucked away on the inner side of her finger. This little treasure promotes Miley's life pursuit of peace, love and happiness.
Anchor
The tattoo of an anchor on Miley's wrist symbolizes for her to stay centered throughout her life and to always find a safe haven when the going gets rough.
Fabio Satori, her tattoo artist on this piece, states, "Miley told her mother that she wanted something that refers to a safe port, something that reminded her that she always has a safe place to return to. The significance of the design is one of hope and a reminder to always have your feet on the ground."
Karma
Another interesting finger tattoo, the word "Karma" rests on Miley Cyrus's pointer finger. The Hindu belief of karma centers around the old saying, "What goes around, comes around."
Equal Sign
Miley Cyrus has an equal sign inked on the inside of her finger, joining the ranks behind her extensive finger tattoo counterparts.
Miley tweeted a picture of this tattoo with the caption, "ALL LOVE is equal," showing her support for legalizing gay marriage.
Om Symbol
On Miley's left wrist sits the Om symbol. Om is a sacred, spiritual Hindu symbol representing the soul, inner self, knowledge and the synergy of all consciousness.
Skull
Miley has a "Day of the Dead" styled skull on her ankle, a Mexican celebration honoring those closest to us who've passed from this world.
It seems that Miley Cyrus and her former fiancé, Liam Hemsworth, sported this skull design as a matching couple tattoo during their heyday.
Love Never Dies
Miley has the tattoo of the phrase "Love never dies" in small black lettering on her left arm. It's been rumored that the meaning behind this design derives from her parents' relationship.
Eyeball
Inked on her right index finger is the outline of an eyeball. This design is a nazar, which is a popular amulet in Middle Eastern cultures used as protection against the evil eye.
Roman Numerals
Miley has a string of Roman numerals placed on her right arm. Taken as a whole, the Roman numerals don't translate into anything in particular.
Since the tattoo doesn't have any spaces between the symbols, it's hard to tell exactly what number she's representing.
Theodore Roosevelt Quote
On Miley's left forearm, an excerpt from a speech given by former president, Theodore Roosevelt, flows peacefully in small black letters. The design references Roosevelt's "Citizenship in a Republic" speech.
The tattoo reads, "so that his place shall never be with those cold and timid souls who neither know victory nor defeat."
Bad
Miley has the word "Bad" on her finger, adding once again to her extensive finger tattoo collection. This is most likely a reference to Michael Jackson's 1987 album titled Bad.
In the past Miley Cyrus has expressed that she's a huge Michael Jackson fan and also says he's one of her greatest musical inspirations.
Crossed Arrows
Drawing from her Cherokee roots, Miley Cyrus adorns the Native American symbol of two crossed arrows on the back of her right arm.
According to Kat Von D on Instagram, this design is a symbol of friendship, "Loved tattooing @MileyCyrus yesterday (sic)! Simple symbols of friendship make beautiful tattoos."
Previous
Next
BEGIN