Unleash your inner princess with these fairy tale-approved date night ideas.
Inspiration for your next date can be found in the unlikeliest of places: a classic animated film.
We've all envied those Disney couples at least once in our lives. Sure, there were some evil queens/stepmothers/sea witches in the way, but in the end, they all got their swoon-worthy Happily Ever Afters. You too can have your own fairy tale-worthy night — just take a cue from your favorite Disney movie for these date night ideas.
Little Mermaid
Date Idea: A romantic boat ride.
Who could forget the red-haired mermaid who just wanted to be a human and marry her prince? And to think, the only thing stopping her from all of that was one little kiss! Recreate Ariel and Prince Eric's boat date (sans a crab singing "Kiss the Girl") by heading to your nearby pond or lake for a romantic and scenic rowboat ride. And since there will be no orchestra of singing animals involved, you can bring portable speakers for some tunes.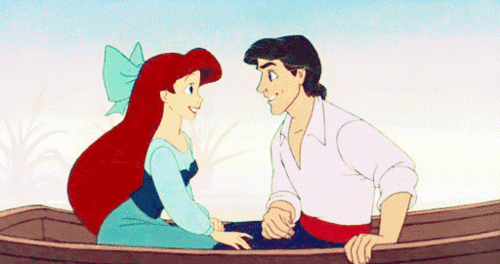 Lady And The Tramp
Date Idea: Cooking classes.
She was a pampered cocker spaniel and he was just a mutt from the wrong side of the tracks. And we all remember that scene where they shared a plate of spaghetti in an alley. No, we're not making you eat one strand of spaghetti until you kiss (cheesy, much?). Sign up for an Italian cooking class and learn how to make your favorite pasta dishes and a delicious dessert. Plus, you'll be learning a new skill that you can use for future date nights. It's a win-win.
Beauty And The Beast
Date Idea: Ballroom dancing lessons.
Even if your relationship is a "tale as old as time," you can spice up your love life by taking a page from Belle and the Beast's relationship. Recreate their romantic dance, by taking a ballroom dancing class. The good news is if neither of you have no rhythm or dancing experience whatsoever, you won't have to wear something uncomfortable like a huge yellow ball gown or a coat and tails. And no one will be judging you, this isn't Dancing With the Stars.
The Princess & The Frog
Date Idea: Try a Cajun/creole restaurant.
In this newer film, driven Tiana has dreams of opening her own restaurant, while arrogant Prince Naveen just wants to marry rich. Spoiler alert: They both turn into frogs. Don't worry, amphibians won't be involved in this date idea. Since the movie is set in Louisiana, plan a NOLA-inspired night. Make a reservation at a Cajun or Creole restaurant for some classic New Orleans-style food. Then, see if there are any Zydeco bands playing at a music club for some dancing.
Mulan
Date Idea: Kickboxing classes.
Who doesn't love kick-butt Mulan? She cut off her hair and pretended to be a guy so she could join the army in her father's place. If you and your SO are feeling adventurous, why not get inspired by Mulan's training camp – where she first impressed her future partner captain Li Shang – for your next date? Take a kickboxing class together. You'll be letting off steam, getting fit, and having fun. Hey, it's okay to fall in love with your sparring partner.
Aladdin
Date Idea: Hot air balloon ride.
We know, genies are hard to come by in real life. But you can still have your own magic carpet moment like Aladdin and Jasmine did. Taking a romantic hot air balloon ride is as close as you'll get to a magic carpet ride. You probably have a heart like super villain Jafar if you're not wowed by the breathtaking views. While you're up in the air, enjoy a glass of champagne and take some memorable photos.
Snow White
Date Idea: Picnic in the park.
An apple brought Snow White and her Prince together, so why not follow suit? Except these won't be poisoned apples and no one will be falling into any magically-induced comas on this date. Go apple-picking at a nearby orchard or farm. And make sure you pack a picnic lunch to enjoy an al-fresco meal after you've worked up an appetite.