Photo: getty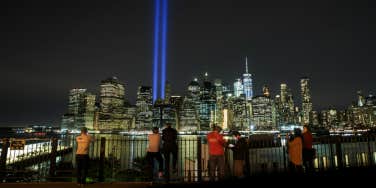 The tragedy broke us, but we picked up the pieces and built ourselves back up even stronger.
On September 10, 2001, New Yorkers, much like the rest of the country, woke up in their own bed, ready to start the work or school week. It would be a normal, mundane week, except that kids were still adjusting to the new school year, some adults were beginning new jobs that would hopefully propel their career in the right direction, and first responders prepared for a day of helping those in need.
No one knew that this would be the last normal day before tragedy would strike.
It was Tuesday, September 11, 2001, and I was laying in bed deciding whether I should get up and go to my college class. I knew I probably wouldn't but debating it helped my guilt.
It was around 9:15 A.M. when my mother screamed from the other room, "Liza! Get in here! Something is happening!" Of course, I thought maybe there was a kitchen fire? Or maybe the cable had gone out, like it often did. When I walked into the living room, the TV was on set to the news. Smoke was billowing from The World Trade Center building.
"What happened?" I asked.
"I don't know. They're saying a plane accidentally hit a building. What's going on?" My confused mother, nervous and shaking, needed an answer. I had nothing to give her. I asked if she had heard from my father, who was a teacher in Brooklyn. She said she tried calling but the phone lines were down.
The doorbell rang: It was our neighbor, crying. "They're saying it was on purpose. Who would do this?" My mother and I joined our neighbor on our deck. Outside, as far from Manhattan as you could be within NYC (Staten Island), the blue sky had traces of gray smoke. All of the neighbors, at that point, were outside, puffing on cigarettes, crying, frustratingly punching numbers into phones that had no connection.
Somehow, I was able to reach a friend at work. Incoming calls were spotty for her, but she was able to make calls. I begged her to call my father and luckily, she got through. He said he may not be able to come home; they were shutting all the bridges and tunnels; that he had to close all his windows because his classroom was filled with ash and smoke; that his co-worker had climbed to the roof of the school building only to be consumed by bone fragments, and the air of death.
---
---
We all just stood, not knowing what to do. Across the street, one of my friends, a young man who was on leave from the Army, walked out of his house in complete Army attire.
"What's happening?" We all asked.
"All hands on deck. We're being called in. My uncle." he stopped. "My uncle was in the building. I don't think he made it out." Tears, screams, and devastation came over the entire block. His uncle was a kind man who often sat on his concrete steps with his dog, saying hello to all who passed. It was weeks before the dog stopped howling for his owner.
It's cliché to say the day changed our lives forever, but it's the truth. An everyday act, like my father coming home from work, went from just another part of the day to a family reunited, with tears and love and gratitude.
As the day went on, we learned of all the people we know who didn't make it home. The people who will never be able to fall into their beds and relax after a hard day. The people who will never be able to hug their families again.
Amazingly, aside from the sheer panic and fear that gripped us, we were lucky to not have been directly affected by the tragedy. We knew people who knew people, but no one in our close circle had been a victim.
Sadly, 2,606 human beings from The World Trade Center and the surrounding area weren't as fortunate. An additional 390 people perished on September 11, 2001, in hijacked airplanes and an attack that targeted The Pentagon. Thousands of others were injured physically and emotionally.
Of course, the United States of America pulled together, forming a unity of strength and love that was unprecedented, especially those in NYC. Men and women immediately joined the military in hopes of destroying the terrorists that irreparably damaged us, others joined first response teams, and for the rest of us, our hearts grew bigger with love and acceptance and the desire to help those around us who had lost loved ones.
One woman, Rev. Ann Kansfield, knew exactly what she wanted to do. Months before the attacks, she had left her job located in the South Tower, but was considering another opportunity at the same location. In an interview with The Christian Science Monitor, Kansfield said, "if I had died that day, all that really would have been said about me was, well, she made some money. And that wasn't what I wanted to be known for."
Her inspiration, Father Mychal Judge, the FDNY Chaplain and Catholic priest, was the first recognized death during the September 11th attacks. Always feeling a connection with the ministry, Mansfield, who is homosexual and was fearful her sexuality may stand in the way of her dreams, attended New Brunswick Theological Seminary in New Jersey. After years of study, Ann Kansfield became the first female (and openly gay) FDNY Chaplain.
Out of the missing poster signs plastered throughout NYC came heartache and the realization that most of those missing weren't coming home. Out of the rubble came hope, and promise for a better future. A future we're still working on, a future we hope that is filled with peace and love. And who better to recount the many feeling about living through September 11 than those who experienced it themselves? Here, 14 9/11 quotes from those who lived through it.
---
Liza Walter is a writer who focuses on current events, pop culture, and true crime. She loves cheese, Game of Thrones, her husband, and son. Not necessarily in that order. You can follow her on Twitter @NerdyLiza.
9/11
We realized by the time that the second plane hit, that this wasn't some sort of horrible accident. At this point, panic set in... are we under attack?? Yes, we were. Should I get my kids from school? Trying to remain calm was difficult.
How many people did we know that would be down there?? Many many many. Our first thoughts went to our best friend Andy who worked for Cantor Fitzgerald, and our next thought went to our brother in law, an NYFD member who worked out of lower Manhattan. We heard through a phone chain that our brother in law had survived, however almost all of his coworkers did not.
Andy was still missing, so we went to our best friend's house by late afternoon. We all sat and watched the TV and cried and prayed and tried to remain hopeful. Two days later the NYPD knocked on their door to say that they had found his body. He left behind a 37-year-old widow, 7-year-old son, 4-year-old daughter, and countless devastated friends.
Every time that I think that it gets easier, I realize that it really doesn't. I kiss his picture all of the time and tell him that I miss him. As we grow older, he remains forever young.
911-4.jpg
I was in tenth grade, sitting in 1st period geometry when it happened, but I didn't find out until 2nd period. It was my drum line class, we were practicing when one of the drum majors, Lisa, came busting through the double doors, tears streaming down her cheeks. I'll never forget the look on her face, it's burned in my memory. She was barely breathing as she said the twin towers were hit.
It was a confusing 2 minutes as we tried to comprehend what she was talking about and scrambled to turn on the TV. We all sat together watching the news, the only noise in the room coming from the TV. We watched as they replayed the second plane crashing into the towers, we hear them talk about the third plane hitting the Pentagon and the fourth crash in Pennsylvania. We watched the second tower fall and it was like watching a movie.
I remember that being my initial reaction, it wasn't real it was just a scene from some upcoming action film. I was very detached in the beginning, I didn't comprehend the lives that were being destroyed, families being torn apart, or the living torture that so many were going through in that moment. Just after the tower fell our teacher turned the TV off and made us practice again. I remember everyone being confused and angry that he did that, I can only assume he wanted to try to return to normal but that just wasn't possible, nothing was going to be like it had been just hours earlier.
The rest of my classes had the news on, teachers didn't know what to tell us so they left it to the experts on TV. As the day went on it started to sink in for me, what had actually happened, what else could be coming, the uncertainty and fear it created. Even as a high school student I knew this made things different. This was New York City and hundreds of American civilians being killed, this was terrorism on our soil on an incredible scale. It's still emotional, I don't think there will come a time in our lives when it isn't.
911-5.jpg
I was home waiting for the cable guy, so I had no TV. I ran outside and from my apartment you could see the plume of smoke (I lived in the Bronx by the Throggs Neck Bridge).
I tried to call my then-fiance, who worked on Wall Street, but he didn't answer. I called my best friend and we went to church, we felt praying might help. The church was packed! I waited for hours until he came home that night covered in ashes, and we embraced in the middle of the street. It was very emotional.
911-6.jpg
I was homeschooled that year and I remember my Mom grabbing my sister and me to watch the news. We saw the second building get hit. My mom thought it was debris falling from the buildings and then she realized it was people jumping.
My cousin worked in one of the buildings so we called to my Aunt to see if she had heard from her. It turned out that my cousin's boss was on vacation that day so my cousin was going to work late. She wasn't there and had no idea what was happening at the time.
I can still picture sitting on my mom's bed watching those people jumping from the building and praying for them. I joined the military 4 years later.
911-8.jpg
I'm from Vermont, with an aunt and uncle in NYC. I was living in Texas, pregnant (and almost due) for baby #3. I turned on the TV first thing in the morning just in time to see the second plane hit. I thought it was some cruel "joke" so I changed the channel. There it was again... and on EVERY CHANNEL.
I was appalled — HORRIFIED! My heart raced. I thought about my aunt (who is a doctor) and uncle (an architect.). My mother called me to ask if I'd heard what happened. My uncle had just stepped out of the subway and turned around in time to see the 2nd plane hit. My aunt was MIA for 2 days until she called to say she was OK and she was flooded with patients at the hospital.
Being both sensitive and in a raging hormonal state, it pained me to be so far away from home. I wanted to be near my family, and if not pregnant, be in NYC to help render aid in any way possible. I didn't know anyone who was directly impacted by loss of loved ones, but I'm a very "feeling" person, and that was a day of emotions I'll never forget!
911-9.jpg
I was on Broad Street at work when the first plane hit. I remember my dad calling me (he was a Chief Master Sergeant in the Air Force at the time) and he asked where I was. When I told him my address he told me to get up and go home immediately—at that point the second plane hit, my building shook, and all communication was cut off. They evacuated my entire building onto the street and locked us out.
I ended up in Battery Park, watching the events unfold. I saw people jumping—a sound I will never be able to erase from my head. The screams... then silence... then the crash. I remember thinking of an exit plan in case I needed to run and at that point I did.
I watched the first tower fall — it seemed to fall in slow motion, floor by floor. I took my jacket, wrapped my face and ran for the ferry terminal. The cloud that filled the air HURT. It felt like I was getting burned like tiny little cuts from whatever was in that cloud. I was still at the ferry when the second tower came down. When the boat came, firefighters, cops, EMTs, Doctors, Nurses all came off the boat. We got on and were told to get down. The captain did not want any people visible on the ferry because he was afraid we would be a moving target.
I never really got over it. I still get anxiety going into the city, I haven't been able to watch any memorials on that day and I still cry when I hear of any terror attack. I get nervous in any crowds if I see any "suspicious person" and I think it all stems from that day.
911-11.jpg
I was at work at Roosevelt Field. We heard that something hit one of the towers on our radio so we rushed to get a TV working. We were horrified at what we were seeing and I quickly pulled my team together to let them know what was happening.
One of my co-worker's fiancé worked across from the tower and she was panicked trying to reach him I comforted her as we waited to hear back and process what was happening. In the days after, we learned of friends we had lost. As well as a friend they were searching for, a firefighter who went in right before the second tower fell. We lost him. They found his helmet.
I was lucky my brother was on the runway at JFK, his airplane was not a chosen one. My coworker's fiancé was fine. But the overwhelming feeling of sadness and loss I feel anytime I think about that day and all those precious lives we lost.
RELATED: 16 Years After 9/11, These Are The Memories We'll Never Forget
911-10.jpg
I worked two blocks away. My train would pull in to the Trade Center around the time of the first attack every day. However, I wasn't there. The night before I had decided to take a personal day from work because September 11th was going to be a beautiful day and my husband wanted to take our 1-year-old to the zoo. My office was destroyed by pieces of the plane landing on our small building. I watched on TV at home, while frantically calling coworkers.
911-12.jpg
I was living in South Carolina. I was driving to work and the news said that a plane accidentally crashed into the top of the tower. At that point they were reporting it as an accident. After I got to work my mom who worked uptown called me crying. Then I started crying, then the big boss sent me home. A few hours later I learned the company sent everyone home. Tragic, horrific day. Never Forget!!
911-13.jpg
I was sleeping in that morning. I was 19. My mom ran downstairs and woke me up when the first tower went down. I knew many people died, even though I had just woken up. The pain that went through me is indescribable. I feel the pain of others as if I am going through it myself. I always have.
I was glued to the TV after that. Then my mom and I watched the second tower fall. We cried. I couldn't believe what I was seeing. And they just kept replaying the planes hitting the towers and the towers falling.
Then I found out my friend's fiancé was missing. He was a firefighter. I drove her to his parents' place in Nyack. They were so wonderful to me, even though their son was missing. Eventually, his uncle found him. Part of him, that is. They found his leg. That was it. They buried his leg. I couldn't imagine.
14.jpg
I was in 4th grade when September 11th took place. I remember one teacher came into our classroom and whispered to my teacher. I remember my teachers face so visibly, it was a face of shock, complete shock. They both stepped outside the classroom and when my teacher came back in she stated, "any children who's parents work in New York City please line up and come with me." Thankfully my parents didn't work in NYC at that time but my aunts, uncles and family friends did.
Those children who lined up were able to leave school and the rest of us lined up to go over to the church and pray. At this point, none of us knew what was going on. We walked quietly into Church to see parents, teachers and the community crying and hugging each other. Being ten years old, in fourth grade, we were all very confused. Finally, our principal announced there was "a bad accident that occurred in New York City and that we had to pray. We prayed and then got dismissed to our parents.
I remember going home and watching the plane crash into the towers over and over again. It was almost mesmerizing and as if we were brainwashed by the television. We sat around the television crying with family members, neighbors, and friends, knowing that we all knew at least one person in the city. One being my uncle's best friend who worked in the north towers, a family friend that has been around for years. To think he would leave behind a wife and two little girls was absolutely heartbreaking.
The next few days were a blur and I remember my dad and his friends went down to ground zero to help clean up. Security was high so I remember my dad saying he had to sneak in and around security just to get to ground zero. What a horrible year that was to see how many families and friends lost a loved one.
One positive thing that came from September 11th, 2001 is that New York came together like a family, strangers helping each other, the support was unreal. The kindness, love, and support that took place during that dark time was amazing. It was a true example of what the world should be like every day.
13.jpg
I was heading to work in Dallas, Texas and heard on the radio that the first tower had been hit. By the time I got into work the second tower had just been hit and within 30 minutes they were shutting down the mall and evacuating because there is a world trade in Dallas and they were afraid that it was a possible target. I went straight home and hit record and still to this day I have never watched the recording that I took.
1.jpg
I had just gotten to work. I worked in an office building off Bay Street on Staten Island and our conference room windows faced Manhattan. Some of my coworkers on the higher floors actually saw the 2nd plane hit. It was horrible, we all stood there in disbelief. They closed the office shortly after.
When I left work, the drive home was so surreal, the highway and streets were empty. I remember crying and thanking God my husband was off that day and wasn't in the city. For so many days after, we could still see all the smoke across the water in Manhattan from my office. Truly one of the most devastating things I have ever experienced.
911-3.jpg
I was living in NJ and had woken up to a friend messaging me asking if I was watching the news. I turned it on as the second tower was hit. I couldn't believe what was going on. I called my then-boyfriend because his uncle worked in one of the towers, but we found out that luckily he had overslept and had been on the train heading into the city when it happened. I would come to read similar stories of people oversleeping that morning.
I drove to a nearby country club which overlooked the city from a distance and watched with many others as smoke billowed into the sky. Everyone was just quiet and some crying, as we stood there helpless. There were many city commuters in my area, and many of them never came home that day. I thankfully didn't know anyone directly that lost their life, but knew friends of friends that did. I didn't travel into the city until about a month later and it was such a sad experience. Posters, memorials, and candles filled the streets. We got as close as we could to the site and there was still smoke coming up from the debris.
It was the first time in my life I realized that there was evil in the world. I would have never thought something like that would happen in my country. Flying out of airports was never the same and NYC would be forever changed for me. I still watch the TV specials every year on the anniversary of 9/11 and it's still hard to believe that it happened.
RELATED: 25 Quotes To Help You Live Again, Even When You're Grieving
Previous
Next
BEGIN