Photo: weheartit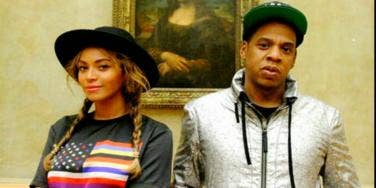 Goes to show: Looks aren't everything!
There are many hot celebrity couples that fans love because they just look picturesque together. It's shallow, but true! However, not all of them fit society's mold of attractive, which honestly gives us hope for us at home.
Do you have dreams of marrying a celebrity but don't fit into society's stupid box of "hot?" Most of us have been there. Well, the good news is that not all celebrities want a young supermodel to bring to award shows. Many have married people who look like the average joe and aren't famous, but have awesome careers and personalities.
Some of these spouses have successful careers as CEOs or bankers. Others are very intelligent and work in research. Then there are those who work in the Hollywood business but are behind the scenes by directing, shooting and producing. You might actually be a fan of the work they have done with their spouses and not even know it.
Then there are the famous couples who are known for being polar opposites. One might be type-cast as the sex pot on screen, while the other is usually the funny or serious actor. But off-screen, they have a lot more in common than the public would assume.
A big trend among these mismatched couples is that they are pretty long-lasting. Maybe we could learn a thing or two about looks: they are definitely not the most important thing when it comes to relationships.
Also, chances are you didn't even know these couples have been married because they have kept their relationship private. It's probably easier to keep a marriage together without the critique of media picking apart every aspect of their relationship.
So which celebrity couples have stood out as looking like opposites? Here are 25 celebrities with average-looking spouses.
1. Christina Hendricks
The Mad Men bombshell oozes sex appeal so some might surprised that she and her husband are opposites. Geoffrey is also an actor and played Matt Mahoney in Madam Secretary. The couple have been married since 2009.
2. Tina Fey
The comedian likes to act like she isn't sexy, but we all know the truth. Her husband is Jeff Richmond, a composer and director. The couple works together and he was a producer of 30 Rock and Unbreakable Kimmy Schmidt. The power couple have been married since 2001.
3. Tamera Mowry
The actress has slowed down with her career lately but you can find her on a few episodes of Melissa & Joey. She's married to Adam Housley who is a former baseball player and award winning journalist! The pair have been hitched since 2011.
4. Elizabeth Banks
The funny lady is all over the place including roles in Pitch Perfect, The Hunger Games, and The Lego Movie. But you probably didn't know that she's married. Max Handelman is her husband and he's an author, producer, and blogger. The two have been married since 2003 and are also college sweethearts.
5. Kim Kardashian
The reality star basically makes money off of her looks, and lately her husband has been making money rapping about them. The rap genius might be a lot of things, but he's not necessarily a model. The two have been married since 2014 and have two adorable kids.
6. Cameron Diaz
The blonde was living the good life for a long time as a bachelorette, so it was kind of shocking when news came out that she was settling down. It was probably even more shocking that it was with Benji Madden, guitarist of Good Charlotte. The pair have been a cute married couple since 2015.
7. Julia Roberts
The redhead is known for her beautiful hair and stunning white smile. But people probably didn't know that she's married to Daniel Moder. The cinematographer worked on Mr. & Mrs. Smith, Spider-Man 3, and more. The two have been hitched since 2002.
8. Anne Hathaway
The adorable Anne Hathaway hasn't had a good history in the romance department, but it looks like she found a keeper! Her husband is Adam Shulman and the couple recently had a son together. They have been husband and wife since 2012.
9. Christian Bale
The Oscar winner has been in major blockbuster films including The Dark Knight. But chances are you didn't know he's also married. His wife is Sibi Blazic and she's a stunt driver! The couple have been married since 2000.
10. Reese Witherspoon
The Southern actress has been in many entertaining movies throughout her career. A lot of fans probably remember when she was married to Ryan Phillippe, but they probably don't know she's now married to Jim Toth. He works as a talent agent and the two have been hitched since 2011.
11. America Ferrera
The actress might have played the lead on Ugly Betty, but she's far from ugly. She happened to marry writer, director, and actor Ryan Piers Williams. The two have been married since 2011.
12. Matt Damon
The action star is one of the biggest celebrities out there today, so it's interesting to think that most people don't know he's married. The Boston actor has been married to Luciana Barroso since 2005. She raises their three daughters.
13. Selma Hayek
The actress is funny and beautiful, but you probably didn't know she was married because het husand isn't famous. Her French husband is François-Henri Pinault who is the CEO of Kering. The two have been hitched since 2009.
14. Mary-Kate Olsen
The former child star is now 30 and one half of a billion dollar empire. She started making headlines when she dated Oliver Sarkozy. The French banker is seemingly the exact opposite of the short fashionista since he towers her at 6'3". The two got married in 2015.
15. Felicity Huffman
The actress played the beautiful Lynette on Desperate Housewives and has since moved on to acting on American Crime. Her husband plays the grimey and alcoholic Frank Gallagher on Shameless. Their characters might be polar opposites, but in real lfe they're in love and have been married since 1997!
16. Hugh Jackman
The actor has notably played Wolverine for many years. He is also known for being one of the rare famous actors who have married a woman older than him. He has been married to actress and producer Deborra-Lee Furness since 1996. The two have two children together.
17. Isla Fisher
You know her as being the funny and beautiful redhead in Wedding Crashers and Now You See Me. And you know her husband, Sacha Baron Cohen, as the crazy man in Borat, Bruno, and The Dictator. On the outside the couple probably don't seem like they match, but they probably bond over being hilarious. The two have been married since 2010 and have three kids.
18. Beyonce
We all know about this iconic couple. Truly anyone would look like chopped liver next to Queen Bey. The power couple have been married since 2008 and have one child together.
19. Kristen Bell
Kristen Bell is as beautiful as she is funny in Veronica Mars, Forgetting Sarah Marshall, and more. Her husband is also known for being able to make an audience laugh. Dax Shephard was in Parenthood, Idiocracy, and more. The pair have been hitched since 2013 and have two kids together.
20. Pierce Brosnan
The Golden Eye actor hasn't been as big on the scene lately, but no one can doubt that he's one handsome man! You probably didn't know the Irish actor is married to Keely Shaye Smith since 2001. The former supermodel might have changed over the years, but if you ask us she still looks good!
21. Clive Owen
The British actor is known for his action movies like Children of Men, Inside Man, and more. He has been married to Sarah-Jane Fenton since 1995 and she used to act herself. Now she's a doctoral researcher at the University of Birmingham so she's pretty smart.
22. Amber Tamblyn
You probably know her from The Sisterhood of the Traveling Pants, but you didn't know she had a famous husband. David Cross is a comedian who has been in many things including Arrested Development. The couple have been married since 2012.
23. Jesse Williams
The hot actor plays Dr. Avery on Grey's Anatomy. He's known for his light eyes and speaking out about social issues. His wife is Aryn Drake-Lee, a real-estate broker. The two have been married since 2012.
24. Aaron Taylor-Johnson
The Kick-Ass actor is known for being in multiple action movies based on comic books. You probably didn't know he was married to filmmaker and photographer, Sam Taylor-Johnson. The two have been hitched since 2012.
25. Alexis Bledel
The actress is mostly recognized as Rory on The Gilmore Girls. She has lately been slowing down on acting and living a private life with her husband. Vincent Kartheiser played Pete Campbell on Mad Men. The two have been married since 2014 and have one child together.
Previous
Next
BEGIN