Photo: weheartit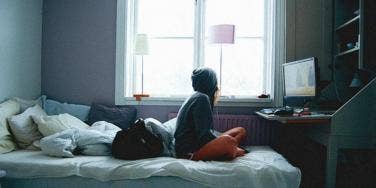 Grab some popcorn and leave your man at home.
There's nothing better than a night in with your boyfriend, laying in bed and watching movies. But some movies are better off being skipped. Those sappy, romance movies that women around the world base their "relationship goals" on? Skip. Scary movies? Skip. War films? Skip.
Sometimes, it's best to watch movies on your own, especially these flicks.
1. Gone Girl
It's good for your boyfriend to know what the female mind can do when tested, but maybe not while you're in the same room as him. A lot of women's immediate reactions to the movie are "Yeah, I can get away with that. I'd do it."
That may be a lot for your guy to process, which is why it's best to skip it when you're with him. The benefit of your significant other seeing it? He'll think twice before liking that girl's Instagram picture. The disadvantage? He'll start wondering when you'll go full psycho.
2. Saving Private Ryan
I'm not sure who would pick this for a date night film, but covering all bases is essential. This is a wonderful, moving film but it doesn't exactly set a romantic mood.
I watched it back in high school, and most of the class needed to cover their eyes from how graphic it got. Any movie with Tom Hanks in it is great, but this is just too darn sad and violent.
3. Her
The epic love story of a man and his ... phone. Talk about a riveting tale of passion. The main character, Theodore, falls in love with the database on his phone, Samantha.
They do all the normal things couples do — go out to dinner, take walks in the park, and have sex. The only thing that sets them apart is that she's not real. The concept of falling in love with Siri is a bit out there for a romantic night in.
4. Don Jon
You can both agree that Scarlett Johansson is smoking hot, but this film gets a little too personal. So much sex, so little time. Every other scene is straight out of a porno because Joseph Gordon-Levitt's character had a masturbation problem.
Even with all of that, the first half of the movie is fine. It's the second half that kills it and will put a damper on your night. The ending a viewer would expect to happen, doesn't. In fact, the exact opposite happens and takes a turn for the weird.
5. Crimson Peak
If you think scary movies are a great way to end up cuddled together, you're sadly mistaken. Prepare for two hours of closing your eyes and jumping out of your seat. If there wasn't so much gore, this film would actually be enjoyable for couples.
It had action, suspense, and sex. Did I mention it was sex between siblings? Nothing ruins date night quite like incest. If you don't want to wonder if your man wants to sleep with his sister, don't watch this with him.
6. A Walk To Remember (or any Nicholas Sparks film ever made)
Sad movies will always be sad, no matter who you watch them with. Unless you've prepared him for your ugly-crying face, it's best to avoid these types of movies at all costs. Nicholas Sparks was put on this Earth to raise the bar for men in relationships and make women swoon, or cry. Sometimes a little bit of both.
Movies based off his books, especially A Walk to Remember, take time to come back from. Just don't do it. You'll be an inconsolable pile of tears at the end and he will either join you or be thoroughly confused on how to comfort you.
7. 50 Shades Of Grey
Hold your whips and loosen your chains on this one. S&M may be hot when you're in the act, but watching it gets super uncomfortable, really quick.
Your man will probably not be as excited to see chokers and ball gags as Christian Grey. Nobody wants to have that awkward "Do you want to try that?" talk afterwards. Nobody. Red is a tacky color for a room anyway.
8. Magic Mike
Shocking, I know. Watching naked men with glistening abs dance on a pole is probably not your boyfriend's idea of cinematic genius (bummer). He'll talk about how the whole thing is fake, you'll have to defend his masculinity, and so on.
Try to avoid this charade if possible. Magic Mike is the perfect girl's night movie. Dinner and a movie with your boyfriend worthy? Not so much. But don't deny yourself the ability to appreciate Channing Tatum. What he doesn't know won't hurt him.
9. Titanic
Going down as one of the best romance movies of all time, you'd think the perfect date night flick would be Titanic. Wrong. First of all, Titanic is way too long for a one-night affair.
In the three and a half hour time span of the film, you and your guy could've gone to dinner, watched a movie, and still had time for dessert. Save time and skip this one. It's much more enjoyable to watch on your lonesome because you can admire young Leo in peace.
10. Spring Breakers
This is basically a girl version of Magic Mike. The film is a glorified compilation of Girls Gone Wild videos. As if the opening shot of a woman's rack wasn't bad enough, the plot was no better.
Girls want to party for spring break, they go to party on spring break, girls get arrested. Either way, Vanessa Hudgens' boobs are featured in every scene. There's no real benefit to seeing this film together other than seeing James Franco in cornrows, which is a sight for sore eyes.
Previous
Next
BEGIN