Photo: PhoneSex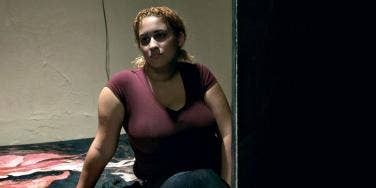 Consider the facade completely exposed.
Phillip Toledano's book Phonesex has been getting a lot of buzz lately, and that's really saying something, since it was released in 2008. There have been articles in Cosmopolitan and The Daily Beast just to name two, and it doesn't look like it's stopping any time soon.
In the intro to the book, Toledano writes, "A contract of mutual self-delusion exists between the caller and phone sex operator. The caller imagines he's speaking to his most secret fantasy. And whatever it might be — animal, vegetable, or mineral — the operator willing plays the part."
Phonesex reveals the truth. It pulls back the veil to reveal the expected, and the unexpected, all at once.
Although the pictures aren't explicit, they're evocative. To see the humans behind the fantasy is a revelation, but almost more astounding are the stories of phone sex operators included in the book.
The clients aren't only confessing to their darkest fantasies; they sometimes share intimate and disturbing moments from their lives. There are heartwarming stories of earning enough money from being a phone sex operator to leave an abusive relationship, to hearing someone kill themselves while on a call.
It's clear that Toledano's work is deeply personal. After his mother died, he became his father's caregiver. His father had been diagnosed with dementia and had no short-term memory.
Throughout the day, Toledano's father would have to be reminded that his wife had passed away and would be grief-stricken all over again. Toledano decided the best way to save his father the pain of dealing with his wife's death on a daily basis, was to create a fantasy world.
"I decided that it was my job as his son to make his life and our life together full of joy and have as little pain as possible," Toledano said in The Daily Beast.
Toledano isn't just an artist with a camera — he's also an artist with words, which is something he shares with the phone sex operators.
"From a few mumbled words, a phone sex operator must weave a bespoke and finely detailed fantasy encounter. What words have maximum yield?" he says.
The photographs were taken in the phone sex operators' homes, sometimes in the very rooms in which they worked.
"They opened their doors to a stranger and wrote courageously about their experiences," Toledano said. "I am deeply grateful."
1. Doing this job takes skills.
"Tuning into men's voices, instead of getting caught up on their looks, was the same as a person suddenly going blind, only to find their other senses enhanced."
2. They mostly work from home.
To be a phone sex operator, you've got to be smart, intuitive, non-judgmental, and have a fantastic imagination.
3. Phone sex operators can be someone you know.
They're regular people, just like you and me.
4. Like any actor, their voice is their instrument.
A phone sex operator may use different tones of their voice to convey distinct fantasies for their clients.
5. Not every customer wants or needs the same thing.
As a phone sex operator, you need to protect yourself from not getting too involved in your client's life.
6. Using simple sound effects enhances the experience.
7. There are even male phone sex operators for female clients.
8. Sometimes, they'll need to wait for the phone to ring.
Many times, a bond forms between a client and a phone sex operator.
9. Consider it customer service of a different kind.
"All those years doing customer service, my customers would comment on my sexy voice."
10. Any age can do this job.
Previous
Next
BEGIN