Photo: Curves, The Book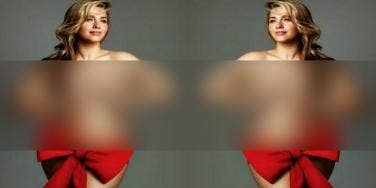 Wow!
Victoria Janashvili isn't just giving lip-service to the idea of body-positivity — she's actively showcasing it.
Her regular job is as a very successful photographer for men's magazines like Esquire, Maxim and GQ, but in her spare time she photographs women of all shapes and sizes. Her body of work is a celebration of every kind of woman.
"Even though the average woman is a size 14, our society continues to set stereotypes as standards when it relates to a real body image of women," Janashvili said in a statement in Cosmopolitan.
Janashvili recently released her first book, Curves, The Book, in which she worked not only with super models, but women far from the fashion industry.
​Curves, The Book is dedicated to showing female beauty in every forms, using models like Denise Bidot, Jennifer Maitland, Angela Martini, and Diandra Forrest — some of them plus-size, some of them decidedly not. And that's the point.
Janashvili isn't saying one kind of beauty is better than another; just that it isn't only about being a size zero or being plus-size. It's about self-esteem and confidence.
The photographs and stories of the models are for anyone, but they're perfect for anyone who's ever felt self-conscious, flawed, or different.
2. Denise Bidot
Watch out — there are curves ahead.
4. Jennifer Maitland
Celebrate your curves, ladies.
5. Maria Bulakina
Body paint doesn't hide the body; it accentuates it.
8. Katya Pushkina
All body shapes and sizes are beautiful.
9. Rosa Pinto
Beautiful is feeling confident in your own skin.
Previous
Next
BEGIN