Photo: weheartit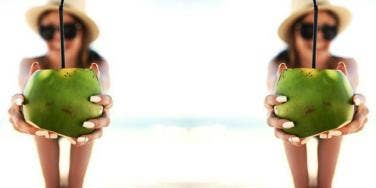 You might want to hold off on stocking up on these goodies.
We want nothing more than a miraculous supplement to come out and knock off all the insecurities on our list while keeping us healthy for life. So when we hear about the latest healthy food trend, we're motivated to empty out our fridge and pantry and restock with the so-called "superfood."
We compiled a list of fads to be aware of before going right into an all or nothing diet. So remember, portion control is your friend!
Coconut Oil
The rate of coconut oil use as a substitute for our main cooking fats, such as butter, is exponentially increasing. To top it off, it acts as an alternative moisturizer for skin and hair treatment. Yet this tropical fruit wasn't all the rage a few decades ago, when its virgin and refined oils weren't available and ones that were used raised cholesterol and encouraged bad health. So the downside? Coconut oil contains 90% saturated fat, which is a much higher percentage than butter, beef fat, or lard. But on the other hand, the oil heightens HDL cholesterol levels—what's necessary and good for your health. We say, use sparingly for now.
Source: Harvard Health Publications
Matcha
This all-green Japanese staple is being revered for its antioxidants and energy boosting capabilities compared to its usual steepened method. Think of it as if you were chewing on green tea leaves, only they're well-ground into fine powder. Adding moderate amounts to your drink is a great way to keep up health benefits, but some are actually mixes that have added sugar for better taste. Also, tealeaves contain lead that can't be filtered since you're basically eating the leaf itself. The purer the better.
Source: Health Magazine
Açaí
Being rich in fiber, low in sugar, and having high amounts of antioxidants, açaí berries have proliferated in the marketplace by their seemingly countless benefits. Wait, AND they help you lose weight? That assumption may be too good to be true. Because pure açaí is basically all seeds, it's sold commercially as juices/powders and contain added sugar and calories. Compared to the price of other healthy alternatives like blueberries, maybe the açaí bowl is only worth it for taste.
Chia Seeds
Although chia seeds have an abundance of plant omega-3s, our bodies are not so great at absorbing the specific nutrients they offer. There isn't enough extensive research to say much about the good and the bad, but chia seeds do have the soluble fiber vital for avoiding a visit to the gastroenterologist. Just remember to eat them in moderation so the bathroom doesn't become your next best friend.
Source: US National Library of Medicine
Photo: Authority Nutrition
Green Coffee Beans
Dr. Oz introduced this raw extract to everyone back in 2012, claiming that it worked as a miraculous fat burner, especially on women. Yet the 100 women he selected during the brief, two-week study shed an average of two pounds. There is not enough data about the product to reach any conclusions, but the suggested dose already contains too much caffeine intake for the day. We'll pass on this one.
Source: US National Library of Medicine
Previous
Next
BEGIN