Photo: Instagram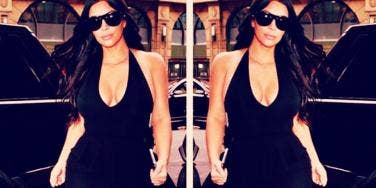 Everyone loves shapewear!
Spanx are every woman's DREAM come true.
Since their inception in 2000 when the Atlanta based company Spanx, Inc. was founded by Sara Blakely, women everywhere have fawned over the shapewear. They are now a household name! (AND as of 2010, Spanx, Inc. also makes shapewear for dudes!)

They were even made famous by Renée Zelweger's character, Bridget Jones, in Bridget Jones's Diary (2001) when she squeezes into her control top undies in that iconic scene before her date with Hugh Grant's character, Daniel Cleaver. Oh, don't we know how THAT feels.
And celebs know that struggle in real life, too. (They are just like us!) If you're after a smooth finish and concealed "wobbly bits" — as Bridget Jones so aptly puts it in the hilariously relatable film — Spanx get the job done.

Celeb ladies like Kim Kardashian, Jennifer Lopez and even Oprah have professed their love for Spanx, and we can't blame them! We are not even on the red carpet in front of thousands of cameras and flashing lights, yet we will still squeeze into that glorious, slimming shapewear for good measure.
Want to know which other famous ladies are into 'em, too? Here are five celebs who love Spanx:
1. Oprah
Oprah has been a Spanx fan since 2000 when she named the shapewear that "sucks its all in" one of her favorite things, calling it life-changing.
2. Kim Kardashian
Kim K told Elle magazine, "Sometimes I wear two pairs [of Spanx] under something or stockings — it holds you in."
3. Jennifer Lopez
Jennifer Lopez uses Spanx to perfect her red carpet looks. "Nice to get a smooth look, you know what I mean?" she said. "It's good to have that lining." We feel you!
4. Katy Perry
Katy Perry keeps it real re: Spanx saying, "I almost always wear Spanx. I like to say I train watching CNN, but I don't."
5. Tyra Banks
Tyra Banks is always professing her love for Spanx! She says, "You put 'em on, it sucks you up, baby. No matter what red carpet, I got 'em on. I look like a granny before I put the dress on, but I put on the dress, and it's like, 'palow!'"
Previous
Next
BEGIN