Photo: WeHeartIt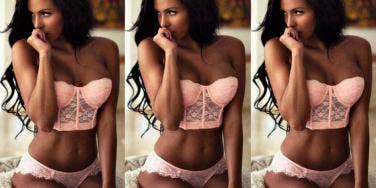 Are you freaky or vanilla?
We all want to feel sexy and comfortable in our own skin (and our tightest pair of leggings). And a thong is one surefire way to do that. But where do you draw the line between sensual and downright bizarre?
There's a HUGE difference between wearing your favorite pair of lacy undies to turn your man on, and being an absolute freak of nature, Borat-style.
Of course, as long as YOU like what you're wearing, who really cares that your thong barely covers up your lady bits? Find out what your thong of choice says about you, boo:
1. V-string thong
The v-string is a stunner and leaves (almost) little to the imagination. This thing is great for ladies who want to skip foreplay and get right to the action.
It's great because it closely resembles your basic thong. And it's also great for Victoria's Secret models who have that ridiculous thigh gap.
2. Lace criss-cross thong
The lace crisscross thong has more material on it (at least in the front), so you won't jump the gun by wearing this one. Add some sweat and you're good to go.
3. Basic, black thong
You aren't about the frills and thrills of over-the-top thongs. Instead, you like to keep things simple ... before revealing your inner freak of nature.
4. Sheer thong
You like to get down and dirty, and waste no time getting there. I mean, you may as well go commando because there's, like, not much of a difference.
Photo: angelsdream.com.au
5. Open g-string
NOPE. Just ... nope. Though, it's probably OK if you want to unleash your inner stripper and ride that pole (wink).
6. Micro g-string
The micro g-string is SUPER naughty and has even less coverage than your average thong. Some designs even have clasps on the side for easy removal.
This is great for ladies who can jump from foreplay to gettin' it on in, like, 2 seconds.
7. Lacy, floral thong
If you're looking for a cute, but also super sexy look, this is the thong for you. They're also a lingerie MUST-have, and are perfect for lounging around in (you know, when you're taking a break from all the sex you're having).
8. Quick release thong
This thong also comes with a clasp for easy access, which is wonderful if you're an exotic dancer. Or just want to get things rolling.
Show us your moves, Peaches.
9. C-string thong
C-strings are a completely different playing field for women who love sexy underwear because they don't even have STRINGS.
The underwear itself is in a C-shape, and completely eliminates the panty-line. But really, what's the point of even wearing underwear to begin with?
10. Tanga panties
The tanga panty is a cross between a bikini and a thong, and is the perfect choice for ladies who want to look and feel sexy, without revealing too much of their vag.
11. Rio thong
Named after the types of thongs popular in Brazil (in Rio de Janeiro, obviously), this kind of thong resembles bikini bottoms (sort of).
Showing off your junk has never been so easy.
12. Sling thong
Borat wore it, and so can you! JK, please don't. These really don't look good on anyone, especially not hairy men. Sling thongs are also called "mankinis" ... only much, much worse.
13. Chip g-string
The chip g-string is even SMALLER than a g-string. We can see your labia! Another great thong for ladies looking to get right into the action.
Previous
Next
BEGIN