Photo: WeHeartIt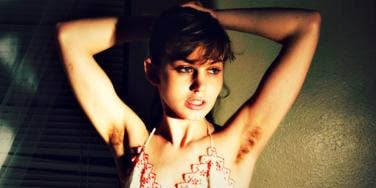 Are you brave enough to let your hair grow?
People have very strong opinions when it comes to female body hair. Some think hair should be removed from every surface possible, while others are OK with a little outer arm hair.
Everyone has their own hair removal routine — shaving, waxing, or epilating. We often feel judged by other women at the gym, the beach, or any place where the dreaded body hair shows its face. So, we make sure to get rid of as much of it as possible.
But body hair could soon be making a comeback. More women are deciding for themselves about what they consider the right amount of body hair for them. Even celebrities like Julia Roberts, Madonna, Miley Cyrus, and Drew Barrymore have all rocked the underarm hair look on the red carpet.
Some women feel that keeping their body hair is about more than liking the way it looks; it's really just a personal freedom.
They embrace their right to choose without judgment from others, because it's no one's right to comment about your hair. And having more body hair doesn't make you less feminine, just like the way having a tattoo doesn't make you masculine.
There are reasons why we have body hair, as it helps to fight infection and bacteria. Even nose hair helps to filter out foreign particles from coming into the nasal cavity. I'm not saying to grow out your nose hair and bedazzle it, but know there's a reason it exists.
Choosing to accept your body hair may feel like an act of rebellion while you're going against some of society's ideals of beauty to embrace your own, but no one should tell you what to do with your body hair.
It's your body, do what makes you feel good, whether it's dyeing your pubic hair or your underarm hair purple. Do it.
Photo: Instagram/grieselkraetze
1. Leg hair
Middle school is prime time for girls starting to shave their legs. If they didn't start shaving, the hair would probably be super soft when they become adults.
Photo: Instagram/samhufferantha
2. Armpit hair
If you don't shave under your arms, you don't feel the pain of putting on deodorant after shaving.
3. Let your armpit hair flow
Armpit hair can act as a buffer against rashes and irritation, you know.
Photo: Instagram/fuzzywuzzychrissy
4. Stomach hair
Stomach hair can be extra soft and look pretty, so why not grow it out?
Photo: Instagram/jensandwich
5. Throw those razors away
Having body hair doesn't immediately make you crunchy granola. You can still be fashionable and cool.
Photo: Instagram/la_guerrita101
6. Shaving is the pits
It's all about being comfortable in your own skin. If you feel confident and happy, it shows.
Photo: Instagram/funkyqueers
7. Hairy legs are completely fine
With all the time you save from not shaving, you can relax and chill.
Previous
Next
BEGIN