Photo: Instagram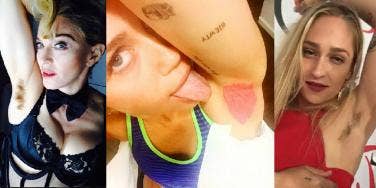 These stars think shaving is the pits.
Underarm hair removal became prevalent in the 1920s when sleeveless dresses first became a major thing. Up until that point, no one thought twice about it. Now it's as common as shaving your legs (or waxing, lasering, whatever). But not everyone is on the smooth-pit bandwagon, and that's fine, too. Underarm hair is natural. Everyone has it at some point, but most women remove it. It's a personal choice that doesn't affect anyone else on the planet. That is, until you start shoving your pits in everyone's faces to show what a special snowflake you are or how well your new rock crystal deodorant is working for you.
These stars all at some point said "eff you" to razors and went au natural. Some even celebrated their hairy pits with dye. More power to you. Just remember that you're probably not actually making that much of a statement as you want to think.
1. Miley Cyrus
Miley Cyrus wants you to know just how much of an edgy hippie she is, so she not only grew out her underarm hair, she also dyed her armpit hair hot pink. Then pretended to lick it. (There also was an abundance of Instagram photos of Miley Cyrus naked except for pasties and pit hair, but we didn't want to subject you to those.)
2. Lady Gaga
As original and special as Miley Cyrus thinks she is for having neon dyed pit hair, Lady Gaga actually did it first at the 2011 Much Music Video Awards to match her wig. Which is odd, because Lady Gaga is usually being accused of stealing her ideas from other people.
3. Madonna
Where there's a Rebel Heart, there's rebel hair, which Madonna proudly wore on Instagram. Unfortunately for the Queen of Pop, she probably has more strands under her arms than people who actually purchased Rebel Heart.
4. Beyoncé
Beyoncé forgot to tame her armpit hair before the New York premiere of Cadillac Records in 2008, but she's still the Queen and still a blessing to us all. Bow down, bitches.
5. Paula Cole
Paula Cole used to be famous for her long armpit hair and singing the theme song to Dawson's Creek. Now she's not really famous for anything.
6. Lily Allen
At last year's Glastonbury Festival, Lily Allen showed off not just her armpit hair, but also a nipple, because she doesn't want you to forget who she is.
7. Juliette Lewis
Juliette Lewis rocked hairy pits to a premiere, and the world almost cared.
8. Julia Roberts
Julia Roberts infamously showed off huge tufts of underarm hair at the 1999 London premiere of Notting Hill, noting that then-boyfriend Benjamin Bratt thought it was a turn-on.
9. Jemima Kirke
Jemima Kirke, starlet of HBO's Girls, rocked hairy pits to the CFDA Fashion Awards in early June 2015. She told reporters that her sister gave her the idea when she stopped shaving, adding, "I feel very French."
12. Halle Berry
In 2009, Halle Berry forgot to shave or wax her pits before an Essence Black Women in Hollywood luncheon. She still looks better than everyone on the planet.
13. Drew Barrymore
Drew Barrymore decided to shave no more before a Marc Jacobs fashion show in 2005.
14. Britney Spears
Poor Britney Spears forgot a razor before an awards show in 2003. She didn't forget one a few years later, though, when she had a meltdown and shaved off all the hair on her head.
15. Tallulah and Scout Willis
Underemployed daughters of Bruce Willis and Demi Moore, Tallulah and Scout Willis are seen here naked in a bathtub drinking will full-on underarm bush. If you feel creeped out, well, you should.
Previous
Next
BEGIN