Photo: Gramercy Pictures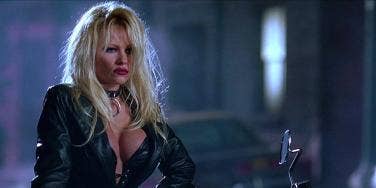 These stars aren't shy about their man-made mammalia.
No one can agree about how they feel about fake boobs. Ask any guy what he thinks, and almost every time he'll respond with "I don't like them." That has to be a lie though, because people keep getting them. Not just small town strippers either! Famous and successful people do it too!
The thing about fake boobs is that they're usually pretty obvious. It's like parts of the an adult's body drastically change size and decide that they don't want to follow the laws of physics anymore. Famous people with boob jobs may try to get us to believe that it happened naturally, but you never see someone show up on the red carpet with suddenly giant thumbs. There's nothing wrong with it, but it still makes me giggle.
Sometimes, breast implants are so noticeable that it eclipses the celebrity's entire career. That's probably because we're all super immature as a society. Either way, here are 10 of the most obviously fake boobs in Hollywood (ok, well technically 20).
Photo: Universal Pictures
1. Dolly Parton
Dolly Parton probably has the most famous bosom in all of music. She's also a great example as to why you shouldn't go crazy with plastic surgery. She's gotten older, but the two beach balls on her chest still look like they're in their 20s. Still, she's happy and adorable and she wrote "I Will Always Love You," so she wins.
Photo: Talk WW Productions, Inc.
2. Wendy Williams
As the host of a daytime talk show that's viewed primarily by women, I'm not sure why Wendy Williams decided to get her chest augmented. Is that a feature that her audience is really looking for? Whatever works, I guess.
3. Tiffany Pollard ("New York")
The face of VH1's reality dating shows, Tiffany Pollard was more commonly known as New York. In between the first and second seasons of her show, I Love New York, she got her boobs done ... then had to get them re-done because the surgery was botched, which she later discussed on, well, Botched. She might have gone just a little too big, because just looking at her new body made my back hurt.
4. Pamela Anderson
Looking back, it's pretty embarrassing that we all let Pamela Anderson have a career. I mean, we all know why she was famous. It had nothing to do with her acting abilities or anything else that wasn't her boobs.
5. Heidi Montag
When The Hills was coming to an end, Heidi Montag must have realized that her career was also pretty much over. So she did the sensible thing and got cartoon-sized boobs installed on her chest. She ended up hating her F-cups so much that she later went down to a D. Pretty sneaky, Heidi Montag.
6. Mariah Carey
Mariah Carey's got some really powerful pipes. Apparently, that's not enough for you people, so she also got fake boobs. They're not huge, it's just that we all saw her before she got them done, so it was pretty obvious.
7. JWoww
Hey, remember Jersey Shore? We all know it was a really bad show. How bad was it? Well, the only point that JWoww had on the show was that she was the girl with the giant fake boobs.
8. Jenny McCarthy
Obviously, Jenny McCarthy isn't that smart. No one noticed for a while because of her chest. Once everyone got over her gravity defying boobs and started listening to what she was actually saying, it was like "Oh wow, that's really how dumb she is?"
9. Carmen Electra
Carmen Electra used to be a legitimate star. These days, if you're watching a movie and Carmen Electra's name pops up in the credits, then you know you're in for a stinker. That's what happens when someone builds a career off of having big fake boobs and wearing skimpy outfits instead of mastering any sort of craft.
Photo: Warner Horizon Television
10. Christina Aguilera
Christina Aguilera was always a little less famous than she wanted to be. She tried to increase her fame by increasing her frame (see what I did there?!). Then she got pregnant, and her real boobs got really big underneath her fake boobs, and things got pretty ridiculous.
Previous
Next
BEGIN