Photo: Warner Brothers Television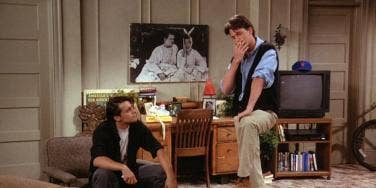 These stars light up more than the silver screen.
Let's be honest, no one needs those public service announcements about the dangers of smoking. At this point, we all know that cigarettes are bad for you. We also all know that life is complicated and sometimes people do things that aren't healthy because it makes them feel immediately better. Smoking is a dumb thing to do, but some people just don't care. No one smokes and then sees a public service ad about a lady with a hole in her throat and is like "What?! I had no idea!"
Smoking used to be considered cool. A cool dude would light up a cigarette and smack the juke box and dance with his best gal all night long. These days, we all recognize it as a bad thing to do. A lot of people still do it, but smoking is one thing you can still shame somebody for doing without worry about the wrath of college aged hashtag activists coming after you.
While some people are still cool being seen smoking, most celebrities are not. Whether or not they smoke, all famous people try to avoid smoking in front of cameras because it's bad for their brand. It's just a better look, from a PR standpoint. Even though smoking is relatively common, you might not realize that there a bunch of celebrities who smoke because they work so hard to hide it. Here are 10 celebs whose lungs look like the bottom of my shoe.
Photo: Universal Pictures
1. Charlize Theron
I'm going to be honest, Charlize Theron kind of intimidates me. I don't know what it is, but if I met her, I'd be terrified. Finding out that she smokes just confirms my greatest fears.
2. Ryan Gosling
Ryan Gosling looked in the mirror and said, "I'm just a little bit too sexy." So he picked up a cigarette, started smoking, looked in the mirror and was still super turned on.
Photo: Warner Brothers Television
3. Matthew Perry
On Friends, the fact that Chandler smoked was a big plot line in several episodes. It's looking like maybe Matthew Perry just told the writers, "Hey, give me an excuse to smoke while filming."
Photo: Universal Pictures
4. Katherine Heigl
If I were Katherine Heigl, I'd smoke too. It must be super stressful having to be around Katherine Heigl all day.
Photo: Walt Disney Pictures
5. Johnny Depp
Who knows if Johnny Depp actually smokes or if he is just being a method actor? He seems like the sort of guy that would decide that every character he's playing would be a smoker, so he also needs to smoke to better get in their heads.
6. Jennifer Aniston
She'll be there for you, especially if you need a light. Jennifer Aniston has been spotted with a cigarette in her hand from time to time. Also, Jennifer Aniston is famous for her glowing skin. This is her without makeup in Cake. She may want to lay off the tobacco or start exfoliating more or something.
Photo: Debmar-Mercury 20th Television
7. Charlie Sheen
Tigers don't smoke, but Charlie Sheen isn't actually a tiger. He's just a guy that gets a little wound up from time to time, so maybe it's for the best if he has a relaxing cigarette occasionally. You know, for the safety of the hookers in his hotel rooms and stuff.
8. Britney Spears
Years ago, the illusion was shattered and we all realized that Britney Spears probably belonged in a trailer park. Of course she smokes, and she probably has strong opinions about RVs as well.
Photo: Buena Vista Pictures
9. David Bowie
There is a man who is the personification of cool, and his name is David Bowie. It doesn't matter how many anti-smoking PSAs they make, David Bowie will still look cool with a cigarette in his hand.
Photo: Warner Brothers Television
10. Ashton Kutcher
Wait, Ashton Kutcher is still famous? What?! Who is letting this happen? I'm more concerned about his continued fame than with his smoking habits.
11. Mila Kunis
Mila Kunis has been spotted by paparazzi with ciggies in her mouth. Good. Let she and Ashton contain their halitosis to just one another.
12. Cameron Diaz
Cameron Diaz wrote a book on how to treat your body well, which makes it all the more odd that she's been snapped inhaling things other than oxygen. Totally healthy.
13. Gisele Bundchen
Sure, she's all supermodel-Earth-mother now, but in her heyday, Gisele Bundchen was the world's most stunning chimney.
14. Leonardo DiCaprio
Leonardo DiCaprio likes to act like he's super environmentally conscious, but he regularly flies private and pollutes the air with his cigarette smoke. Thanks for the global warming, jerk.
15. Katy Perry
Smoking is bad for your voice. Good thing Katy Perry relies on Auto-Tune and that most of her fans don't care.
16. Selena Gomez
Though Selena Gomez has been spotted buying clove cigarettes with more frequency than fans buying tickets to her movies.
17. Kate Hudson
Kate Hudson has an athletic wear line now, but it's probably hard to do too much cardio when you've got tobacco and tar in your lungs.
Previous
Next
BEGIN