Photo: MTV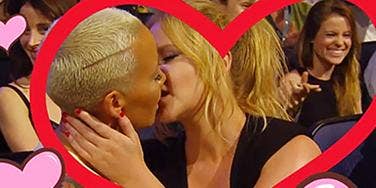 These famous ladies couldn't keep their lips off of other ladies.
If you're looking for pictures of girls kissing girls, look no further than these celebrities who have locked lips with other women (bisexual or otherwise)
In doing my research of girl on girl kissing scenes. I was shocked — SHOCKED — to see that there were so many. I was like, "Well, there's that scene from Not Another Teen Movie, but I think that was supposed to be a joke." I only watch movies starring respectable actresses performing in thought provoking roles. I had no idea there were so many of these scenes.
I think that's the point of this gallery. I respect these thespians. Would you kiss someone from the gender you don't normally kiss for your job? No, you wouldn't. Well, Miley Cyrus did, because she's that dedicated to her job. So, here's a list of women who take their work very seriously and one time maybe kissed another girl.
While not all of these celebrities kissed girls in movie scenes, some were in pubic, you can see kissing photos of Jennifer Lawrence, Miley Cyrus, Katy Perry, Kendall and Kylie Jenner, Amber Rose, Amy Adams, Megan Fox, Madonna, Britney Spears, and more.
Enjoy.
1. Madonna and Britney Spears
Currently, Madonna is an old lady who is desperately trying to not look like an old lady. While it's pretty sad to watch, it's a recent development. Back in 2003, Madonna was performing at the VMAs with Christina Aguilera and Britney Spears. At one point, Madonna turned and made out with Spears, and everyone went NUTS. Madonna also made out with Aguilera, and everyone was like "Oh yeah, Christina Aguilera was there too. I basically forgot that she existed."
2. Sarah Michelle Gellar and Selma Blair
This is another one of those pre-internet porn movies that's basically just a sexy movie for teenagers. Remember the plot to Cruel Intentions? No, no one does. I looked it up, it's the stupidest thing ever. The entire movie was basically sold on the scene of Sarah Michelle Gellar and Selma Blair making out. We should feel pretty bad for our society that it worked.
Photo: Metro-Goldwyn-Meyer
3. Penelope Cruz and Scarlett Johansson
Wait, what? I didn't even know this happened! Is this the sort of movie I can convince my girlfriend to watch, or do I need to do it secretly? Actually, I'm pretty sure she'd be ok with it, I mean it's Scarlett Johansson...
4. Amanda Seyfried and Megan Fox
When Megan Fox was still a huge name, Jennifer's Body was made just to get her into as many sexy situations as possible. She eventually makes out with her best friend, played by Amanda Seyfried, and also turns into a demon or something.
Photo: Fox Searchlight Pictures
5. Natalie Portman and Mila Kunis
The best part about Black Swan is that creepy guys can watch it for the scenes between Natalie Portman and Mila Kunis, but they can pretend that they're watching a smart film by a smart director.
6. Gina Gershon and Jennifer TIlly
Here's an interesting fact: Bound is the theatrical directorial debut of the Wachowski siblings. Also, every man knows that this movie exists, but has no idea what the plot of it is. They all just know that Jennifer Tilly and Gina Gershon totally do mash faces together.
7. Angelina Jolie and Elizabeth Mitchell
Before she was Hollywood royalty, Angelina Jolie had to make the occasional TV movie. Gia is an HBO biographical movie about the model Gia Carangi. It was also about Angelina Jolie and Elizabeth Mitchell's characters making out, because HBO really needed to justify that premium channel charge.
Photo: Sony Pictures Classics
8. Julianne Moore and Amanda Seyfried
Julianne Moore stars in Chloe, playing a woman who is worried about her husband's infidelity. So worried, in fact, that she hires a prostitute, Amanda Seyfried, to try and seduce her husband. The movie is really about a woman who comes up with really bad plans. Eventually, Moore and Seyfried's characters kiss, because where else could a plan like this lead?
9. Neve Campbell and Denise Richards
The movie Wild Things was basically a porn for high school freshmen. Back when it was released, kids didn't have the same access to the internet, so Hollywood would make sexy movies for teenagers, which is as creepy as it sounds. The plot of this movie is about the same quality as the articles in Playboy, if you catch my drift.
10. Miley Cyrus and Katy Perry
In the middle of one of her concerts, Miley Cyrus grabbed Katy Perry and kissed her. Apparently, Perry wasn't ready to go as far as Cyrus was, and pulled away. The two got into a brief Twitter beef, which ended with Katy Perry threatening to spank Cyrus, because she was totally trying to not make things sexy. Totally.
11. Kendall Jenner and Kylie Jenner
Kendall Jenner is a legitimate professional model. Kylie Jenner has big lips and a boyfriend who'd probably be accused statutory rape in most states. When Kylie needs attention, she kisses Kendall. Sometimes on the lips. And sometimes she shoves her hands down Kendall's pants against Kendall's will. Can someone please get this girl a therapist? Like yesterday?
13. Nikki Reed and Evan Rachel Wood
Nikki Reed and Evan Rachel Wood played 13-year-olds in Thirteen. That means if you're turned on by this photo, you're going to prison.
14. Mischa Barton and Olivia Wilde
Remember when Mischa Barton was employed? And when Olivia Wilde was relegated to TV to play lesbians and bisexuals?
15. Heather Morris and Naya Rivera
Ryan Murphy wrote Brittany (Heather Morris) into a full-blown, openly declared lesbian relationship with Santana (Naya Rivera). Then he changed his mind and she was like, totally straight. Because, you know, apparently bisexuality isn't a thing that exists in Lima, Ohio.
16. Brittany Snow and Sophia Bush
Listen, John Tucker Must Die was awful. You literally are looking at the only reason to watch this movie, and when you put it into the context of the film itself, it'll just make you angry. Don't do this to yourself.
17. Amber Rose and Amy Schumer
Amy Schumer has a TV show, movie and personal brand to promote. Amber Rose isn't currently dating a rapper. Do what you need to do, ladies.
18. Alanis Morissette and Sarah Jessica Parker
You oughta know that Alanis Morissette said she was "disappointed" with her onscreen kiss with Sarah Jessica Parker on Sex And The City in 1999. The singer told press, "I kissed Sarah Jessica Parker. I played a lesbian in Sex And The City and I had to kiss her. I have experimented with same-sex relationships in my life, but it wasn't about enjoyment with Sarah Jessica. Her character was supposed to be reluctant about getting involved, so it wasn't a passionate kiss — it was a reticent one, which is the reason I didn't enjoy it."
19. Courtney Love and Amber Rose
I mean, this isn't the worst decision either of them has ever made.
20. Jennifer Lawrence and Amy Adams
There was no point to Jennifer Lawrence kissing Amy Adams in American Hustle except to maybe give David O. Russell a boner. And even that couldn't make this movie memorable. Seriously, this was so overrated.
21. Vanessa Hudgens and Ashley Benson
Because they're like, so edgy, Vanessa Hudgens and Ashley Benson made out in a threesome with super-creep James Franco in Spring Breakers. If this sounds somewhat familiar, it's because you already looked up Wild Things from earlier in this list.
Previous
Next
BEGIN