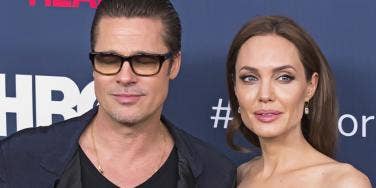 Even superstar couples can start out as sidepieces.
In a perfect world, a significant other will never cheat nor stray. If he or she is unhappy, they should just leave, instead of embarking on an illicit affair with someone else. But that rarely, if ever happens, and affairs are all too common.
Celeb cheaters have it even worse, since their indiscretions are splashed all over gossip websites, as was the case for country singer Jason Aldean, who was caught locking lips with the gorgeous Brittany Kerr, an NBA cheerleader and former American Idol contestant, while married. He blamed it on alcohol and seemed sorry that he got caught. He wifed up Kerr and they swapped vows last weekend, making liquor seem like anything but the culprit and catalyst in this romance.
But we don't feel sorry for celeb cheaters and mistresses. If they step out and get found out, well, they shouldn't have done it in the for place or they should have been more careful.
Take Brad Pitt and Angelina Jolie, for instance. They were two-thirds of the world's most famous love triangle and while they often deny it, much of the planet pretty much thinks Brangelina became "a thing" while he was still very much married to Jennifer Aniston.
That said, being a side piece is never an enviable, comfortable, or fun position, even if you are rich, famous and beautiful. These 14 celebs were once mistresses and side pieces, and many of them became wifeys.
While those terms seem negative, these ladies have the last laugh, because most of 'em got the ring and the man.
1. Britney Spears
The fertile Kevin Federline had a second baby on the way with Shar Jackson when he hooked up with Britney Spears. The aspiring rapper and the pop star went on to marry and have two really adorable kids before splitting. Brit's been dating a string of dudes ever since.
2. Eddie Cibrian and LeAnn Rimes
This relationship was born out of drama, drama, drama. LeAnn Rimes was married to Dean Sheremet, and Eddie Cibrian was married to Real Housewife Brandi Glanville. They began an affair on the set of a s*itty Lifetime movie. While Rimes and Cibrian try and keep the peace, they got through periods of good and bad with his ex-wife, which plays out publicly in the tabs. Sheremet recently opened up about the ugly Rimes situation, even though he is remarried.
3. Angelina Jolie and Brad Pitt
Brangelina have always denied that any wrongdoing happened while Brad Pitt was still with Jennifer Aniston. They sizzled on set of Mr. & Mrs. Smith, eventually saying that their kids will be able to watch the film in which their parents fell in love IRL. Um, yeah, he was married to America's Sweetheart, aka Jen, during filming. While Brangelina is larger-than-life, if it walks like a duck ...
4. Elizabeth Taylor
Liz was BFFs with Debbie Reynolds, but that didn't stop the violet-eyed star from stealing her fellow actress' hubby Eddie Fisher (aka the real life father of Princess Leia) and marrying him herself. Even Old Hollywood was a marital mess, but big ups to Reynolds for not holding a grudge.
5. Tori Spelling and Dean McDermott
Tori Spelling was married. So was Dean McDermott. But they had an affair, had a wedding, had a lot of kids, had financial troubles, and then it came full circle, when McDermott cheated on Spelling. Or so we think. Many think that the scandal was invented for reality show ratings. But as the saying goes: If he'll cheat with you, he'll cheat on you.
6. Lil' Kim
Lil Kim was bangin' the late Biggie Smalls while he was married to singer Faith Evans. Had Biggie lived, he might have eventually married (and probably divorced) Kim, too.
7. Marilyn Monroe
Jackie O. had to look over her shoulder because the blonde bombshell had a hankering for the President. The Marilyn Monroe—JFK affair is one of the most discussed topics in history. They never married, of course, but that's just a footnote.
8. Chris Brown and Rihanna
Rihanna was on-off, on-off with Chris Brown … and once while he was dating Karrueche Tran. Breezy even admitted that he loved both women at the same time. So it was a love triangle that did not end in marriage, but it was seriously intense when ChRihanna existed. Both have reunited with him many times, so it's anyone's guess as to what he's packing to keep luring them back.
9. Blake Shelton and Miranda Lambert
The Voice coach had a wife, named Kanyette Williams, before he and his golden girl became the First Couple of Country. Actually, make that Second Couple of Country, since Faith Hill and Tim McGraw reign supreme.
10. Camilla Parker Bowles and Prince Charles
This origin story is steeped in scandal. Princes Charles allegedly strayed from the revered (and now-late) Prince Diana for his current wifey. There's always been the notion that he wanted to marry his side piece in the first place, not Di.
11. Gabrielle Union and Dwyane Wade
The actress and the baller are believed to be happily wed now, but his ex-wife says that Wade cheated on her with Union. Then there was that whole pre-wedding drama where Wade fathered a child with someone else while he and Union were on a break, Ross x Rachel from Friends-style. What. A. Mess.
12. Johnny Depp and Amber Heard
Johnny Depp was with model and singer Vanessa Paradis forever ... and for two kids. There must have been trouble in "Paradis" when he met Heard on set of a movie that tanked — have you seen The Rum Diary? — and got loved up with her. Now Heard is wifed up.
13. Melanie Griffith and Antonio Banderas
The actors met on the set of 1995's Two Much, and while each married to someone else at the time, that didn't stop them from falling in love, getting married, having a daughter named Stella, or her getting his name etched on her arm in a heart. They split after two decades of lurve ... and Griffith is in the process of getting that infamous tat removed.
14. Brittany Kerr and Jason Aldean
Married bro country singer Jason Aldean was caught smooching the cheerleader and American Idol castoff in L.A. He blamed it on being drunk, divorced his wife, and then married Kerr. For what it's worth, Aldean and Kerr have ignored all the hate that comes her way for being a "homewrecker" and they seem like a well-matched and happy pair. From scandal came lurve!
Previous
Next
BEGIN