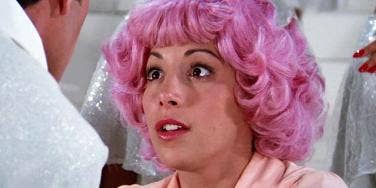 From carnation to fuchsia, see which stars' hair did the blushing for them.
Remember when Frenchy accidentally dyed her hair hot pink in Grease and was ridiculed for being a "Beauty School Dropout" and had to go back to high school? If she did the same thing today, she'd be a goddamn legend.
January Jones is the latest starlet to join the Pink Ladies, sharing her new 'do hue on Instagram this week. It's a good way for January Jones to make headlines since she doesn't have much actual work to promote since Mad Men is ending and her range is more wooden than most lumberyards.
Jones explained to E!, "Whenever I have a hiatus I try to do something a little bit different. And also just to shed characters. It's a good change up. Not that the character I played on Last Man on Earth was traumatizing or something. I'm an artist and I get bored and I want to do something crazy. It's not that crazy though, it's already faded. I always like to change it up."
Of course, pink, like any other hair color, works better on some than on others. See what other celebs kept up with the (January) Joneses and tried on the shade for size.
1. January Jones
January Jones ain't Mrs. Betty Draper anymore! The starlet shared her pink rinse on Instagram.
2. Rumer Willis
For a while, Rumer Willis was almost famous for her hot pink hair. Now she's just almost famous for having famous parents.
3. Rita Ora
Rita Ora's pink hair was both more flattering and somehow more natural-looking than the bleach-blonde travesty she insists on putting on her pretty head.
4. Rihanna
If you blinked, you probably missed Rihanna's brief dalliance with pink hair. As usual, she looked flippin' amazing, because, well, she doesn't really have a choice. The girl really can't help it.
5. Rachel McAdams
Rachel McAdams is stunning, but her hot pink streaks didn't flatter her much. A more pastel shade would have warmed her up beautifully.
6. Hayley Williams
Listen, Hayley Williams' hair has been a million and one different colors, some of which worked better than others. It's just a miracle that the Paramore frontwoman isn't bald from all those chemicals.
7. Nicole Richie
Nicole Richie has to stay relevant somehow, so pink hair it is.
8. Nicki Minaj
For a very, very long time, the now toned-down Nicki Minaj had pink weaves as her signature. In fact, she rapped about in Kanye West's "Monster": "Pink wig, thick ass, give 'em whiplash."
10. Perrie Edwards
Little Mix songstress (and soon-to-be-wife of One Direction bad boy Zayn Malik) had hot pink tips for a while.
11. Katy Perry
Katy Perry diversifies her hair colors, maybe to distract from the fact that every one of her songs and albums is basically the same recycled product that Capitol just can't get enough of.
12. Kesha
Kesha's had a whole rainbow of hair colors, and they all look stunning on her because she's perfect.
13. Gwen Stefani
Before appropriating Japanese and Native American culture for her own artistic and monetary gain, Gwen Stefani appropriated her hair color from bubblegum.
14. Avril Lavigne
Because she's so, like, punk rawk and stuff.
15. Demi Lovato
Demi Lovato rocked hot pink hair for a minute after testing hot pink tips in blonde hair for a while. She can rock just about any shade and look great, but we love her best as a brunette.
16. Dame Helen Mirren
This is why Dame Helen Mirren played The Queen. Because that's exactly what she f*cking is.
17. Ellie Goulding
Ellie Goulding combined a tasteful pink shade with a tragic Skrillex cut. (Incidentally, they were dating at the time.)
18. Willow Smith
Willow Smith briefly sported willowy, petal pink strands.
19. Julianne Hough
Julianne Hough's blond locks were one of her trademarks, and she traded them in for a bubblegum shade.
Previous
Next
BEGIN