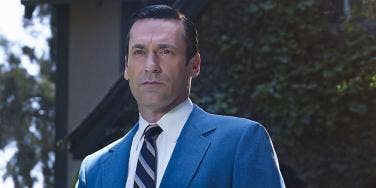 In honor Jon Hamm's newfound sobriety, here are 12 stars who beat alcohol addiction.
Mad Men star Jon Hamm discreetly gave up drinking and entered rehab in February for alcohol abuse.
The dapper Don Draper managed to keep his stint under wraps. His reps told Page Six, "With the support of his longtime partner Jennifer Westfeldt, Jon Hamm recently completed treatment for his struggle with alcohol addiction. They have asked for privacy and sensitivity going forward." Us Weekly reports that Hamm finished up his program mere days before the premiere of Mad Men's final season on April 6, but that he waited until filming wrapped to actually begin rehabilitation.
Jon Hamm isn't the only star to put the bottle down for good. Here are other stars who've battled booze and won. Go you, Jon Hamm.
1. Jon Hamm
Jon Hamm's reps confirmed that he spent a month in rehab for alcoholism. The Mad Men star reportedly checked himself into a Connecticut facility in February.
12. Demi Lovato
Demi Lovato recently celebrated three years of sobriety. Longtime on-again off-again boyfriend Wilmer Valderrama commemorated the occasion on Instagram, writing, "It is now 3 years since you said: 'I am more important then [sic] any past, demon, disorder or addiction' .. Where you decided that YOUR life was worth living while loving yourself.. And I'm sure glad you did... I knew then the woman you've become now.. I am proud and honor to be front row to see the world you are about to change." Pretty rich coming from Valderrama, who used to go clubbing with then-underage Lindsay Lohan (then brag about his sexploits with much younger women publicly), but hey — if he's good enough for the flawless Demi, he's good enough for us.
13. Scott Disick
Scott Disick recently entered an alcohol and addiction rehab center in Costa Rica ... then promptly left it to go clubbing. Here's hoping he's taking his recovery seriously.
11. Ben Affleck
Ben Affleck went to rehab for his alcohol problem back in 2001. "Simple as this, I quit drinking. It's really not that big a deal," he told The Mirror back in 2008. "It has no real bearing on anything else in my life. Your lifestyle changes at a certain age."
10. Kristin Davis
The Sex And The City star drank because it "freed" her. "I was really shy and I didn't know how to come out of my shell," she said. "I drank for the same reason I loved acting. I wanted to feel things and express myself and be free. And I'm not naturally that way." Luckily, she kicked the habit in the 80s.
9. Johnny Depp
"I investigated wine and spirits thoroughly, and they certainly investigated me as well, and we found out that we got along beautifully, but maybe too well," Johnny Depp told Rolling Stone back in 2013. There are rumors that he became drunk at an awards show back in 2014 and went back to therapy, but we're happy he's continuing his fight nonetheless.
8. Jada Pinkett Smith
The lovely star has been sober since 1997, when she first was married to her hubby, Will Smith. According to Jada, "I found myself drinking two bottles of wine on the couch and I said, 'Jada, I think we've got a problem here.'"
7. Stephen King
Stephen King has been sober for decades — since the late 80s, to be specific. That's a long time without touching a drink!
6. Eva Mendes
Eva Mendes went to rehab back in 2008. She has been quoted as saying that she's "proud of people who have the determination and the fearlessness to actually go and face their demons and get better." We're proud of you, too, Eva.
5. Daniel Radcliffe
About four and a half years ago, the Harry Potter star found himself getting too reliant on alcohol to have a good time. He now lives a quiet, non-Hollywood lifestyle without the stuff.
4. Gerard Butler
Butler hasn't had a drink in over 15 years. Alcohol almost ruined him, according to the star. "I had gone from a 16-year-old who couldn't wait to grasp life to a 22-year-old who didn't care if he died in his sleep," he said.
3. Jamie Lee Curtis
Jamie got sober back in 1999 and claims that recovery is one of the greatest achievements of her life. That's saying a lot, with how successful this lovely lady is. You go, Jamie!
2. Ewan McGregor
This heartthrob went sober back in 2001, when his drinking was out of control. He hasn't touched a drink since.
Previous
Next
BEGIN