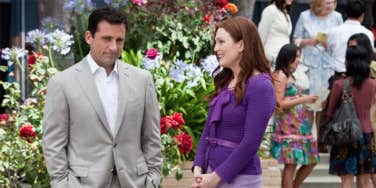 These 15 fictional men are definitely marriage material.
We all have fictional crushes, regardless of whether it's Pride and Prejudices' Mr. Darcy or Insurgent's Four. These are both very different and very sexy men to have crushes on, but neither of them would make for a very good husband, which inevitably means eventually you would have to divorce them.
However, there are some men who portray husbands on-screen that show us the type of man we should be looking to spend forever with (even though these types of perfect men may not exist, at least we have a basis of the kinds of things we are really looking for).
Some of them may not be the cutest guys ever, but they show the kind of husband you really should be looking for. It's time to give up on Mr. Darcy and find a Greg Focker. (Yes, I did say that … and I meant it too.)
It's time we stop falling in love with the reformed movie asshole and fantasize about the movie husbands that are caring, thoughtful, supportive, etc. throughout. Yes, there are times when these men make stupid decisions, but overall, they are adorable and we are super obsessed with them. Here are 15 fictional movie husbands we want to marry in real life:
1. Leo in The Vow
First of all, Channing Tatum's face is perfect. Second, he helps Paige remember him and fall in love with him all over again. Cheesy? Definitely, but that's the kind of man you want post memory loss.
2. Emmett Richmond in Legally Blonde 2
Honestly, no one really remembers the premise of Legally Blonde 2, but they do remember how adorable and cute Emmett is.
3. Peter Klaven in I Love You, Man
Okay, so they aren't technically married yet in this movie, but let's face it, everyone wants to marry Paul Rudd. He is perfect.
4. Mike O'Donnell in 17 Again
Any man that starts out being Zac Efron and grows up to be Chandler Bing is husband material.
5. Cal in Crazy, Stupid, Love
That scene where Steve Carell mows the lawn and does all the yard work in the middle of the night for his wife is what husband material is made of.
6. Chris Nielsen in What Dreams May Come
Okay so depressing movie, but Robin Williams literally goes into hell to save his wife after she commits suicide. #commitment
7. Henry Roth in 50 First Dates
Henry liked Lucy so much, he made her fall in love with him all over again every single day. He also worked with seals and penguins, which would be the best perk ever in a marriage.
8. Greg Focker in Little Fockers
So we couldn't use the first two movies since Greg and Pam weren't married yet, but still, Ben Stiller is pretty cute and nerdy as Greg Focker.
9. Sam Wheat in Ghost
Even after his death, he helps Molly and makes sure she's okay, because he's a perfect husband. We would love Sam to be our husband, without the whole death thing though.
10. Burt in Away We Go
To be honest, John Krasinski in anything is an ideal husband situation, but as Burt in Away We Go, he is the best husband ever.
11. Tom in Just Married
Is he the best husband? Not great, but there's something about Ashton that you just can't get enough of in Just Married.
12. Will Hayes in Definitely, Maybe
Straight up DILF if we've ever seen one.
13. Jake Perry in Sweet Home Alabama
Josh Lucas makes dudes in the south look damn fine.
14. Clark Griswold in Vacation
He's pretty stupid, but in Clark's defense, he loves his family more than anything and that's the kind of husband you want. He just wants to go on vacation!
15. Gerry in P.S. I Love You
Minus the whole death thing, Gerard Butler was basically the best husband ever in P.S. I Love You. He helped her move on from beyond the grave.
Previous
Next
BEGIN