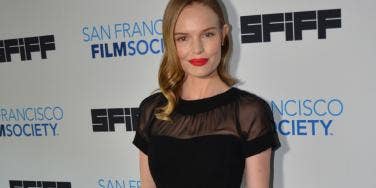 Our differences—we won't call them flaws!—are what makes us unique and totally awesome!
Our differences—we won't call them flaws!—are what makes us unique and totally awesome!
Things like scars, which come from life experience, or out-of-the-ordinary physical traits or atypical body parts, which are usually genetic conditions that we are born with, are what make us special and distinct; they are also the things that give us character.
You will find absolutely no body shaming here; we celebrate the very things which make people stand out from the crowd.
Of course, our celebrity friends are not immune to such things. Remember, they are human, too, even though their status in life often makes us think that they are otherworldy. There are many celebs that boast unusual physical traits or body parts, like actress Kate Bosworth, who has two different color eyes, or that beloved hottie Megan Fox, who has clubbed thumbs.
Whether it's slightly webbed feet (hint: it's a hunky actor) or a seven-inch scar sustained in a car accident (hint: it's a gorgeous TV host), there are lots of Hollywood stars who don't and won't hide the very things that set them apart. For that, we applaud them.
Here are 16 celebs that have an unusual physical characteristic to their credit.
1. Seal
It is said that Seal's facial scars are the result of discoid lupus erythematosus, a condition that affects the skin above the neck. That didn't prevent Heidi Klum, one of the world's most beautiful women, from marrying him.
2. Megan Fox
Megan Fox is largely regarded as thermonuclear, but she also has clubbed thumbs, which means they are shorter, rounder, and have a short 'n' wide nail bed. Some call this condition "toe thumb," since the thumb looks like—you guessed it—a big toe.
3. Taye Diggs
Taye Diggs was born with 12 fingers—an extra on each hand. They were removed when he was a child.
4. Britney Spears
Britney Spears reportedly suffers from psoriasis, a skin condition that is characterized by scaly red parches and that flares up when the sufferer is under pressure. Brit Brit is a superstar and all eyes are on her, all of the time, so ... it's understandable if the condition is exacerbated often.
5. Padma Lakshmi
Top Chef goddess Padma Lakshmi has a seven-inch scar between her elbow and shoulder, the result of a car accident at age 14.
6. Kylie Jenner
Kylie Jenner has a scar on her leg from playing hide and seek with her sister.
7. Jennifer Garner
Jennifer Garner has a crooked pinky toe. The technical term is "brachymetatarsia," where one of the bones in the foot is too short, so the toe overlaps.
8. Kesha
Kesha has always been different... since the day she was born. She once revealed, "I had a tail when I was born. It was a tiny tail, about a quarter of an inch, then they chopped it off and stole my tail." This is why we love her; she probably would have kept her tail if given the choice.
9. Drew Carey
The Price Is Right host was born with 11 toes; he had a sixth toe on his right foot.
10. Ashton Kutcher
Ashton Kutcher has webbed toes, which he says are slightly connected.
11. Lily Allen
Lily Allen is not shy about her third nipple. She showed it off on a European TV show. It looks like a birthmark, though.
12. Forest Whitaker
Forest Whitaker's lazy eye did not stop him for winning an Oscar for The Last King of Scotland.
13. Karolina Kurkova
Karolina Kurkova's belly button is MIA due to a surgery se underwent as an infant.
14. Kate Bosworth
Kate Bosworth has heterochromia iridum, which is the fancy term for two different colored eyes! The actress' right eye is hazel and the left is blue.
16. Andy Garcia
Andy Garcia was born with a conjoined twin attached to his shoulder. Wow, right? The twin was removed and a scar remains.
15. Harry Styles
The One Direction hunk claims to have extra nipples, which he jokes were left behind by a phantom twin. The extra nipples, which are dark spots below his pecks, are likely birthmarks.
Previous
Next
BEGIN