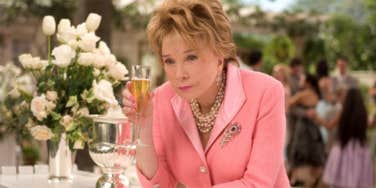 These Grandmas still have it going on.
There have always been hot moms in movies. Jane Seymour's performance as the hot mom who tries to go after the younger men in Wedding Crashers or the classic high school loving "MILF" in American Pie also known as Stifler's mom have ruled the world for far too long. It's time to give someone else a chance to be the sexy ones. The women we are talking about are the amazing, ageless, sexy people who have gone far beyond being a hot mom.
Their title? Grandma of course. Yes, that's right we are talking about sexy movie grandmas. It's tough being a grandma. Your job includes making sure that everyone is taken care of and you have to put your kids and grandchildren before yourself, while still making time for yourself. They are out there and they are fabulous and deserve recognition. It can't be easy playing an older woman who don't ever get the hot men, but someone's gotta do it and these 10 women do it very very well. In the words of Aaliyah, "Age ain't nothing but a number."
1. Betty White in The Proposal
I don't think anyone can argue that Grandma Annie still had it going on in The Proposal. Especially at the strip clubs.
2. Cloris Leachman in Beerfest
She played a frisky German whore … and could still really work a sausage.
3. Doris Roberts in Grandma's Boy
She gets high, plays video games and eats Captain Crunch. Nerds everywhere wanted Doris in Grandma's Boy.
4. Florence Henderson in The Brady Bunch Movie
While Shelley Long took over the role as Carol Brady in the movie, Florence Henderson made a special appearance as grandma and still looked perfect.
5. Shirley MacLaine in Rumor Has It…
If your grandma, your mom and you all hook up with the same man, it's weird, but that also means your grandma must be pretty hot.
6. Jane Fonda in Georgia Rule
Small town. Hot Grandma. Jane Fonda needs no explanation.
7. Julie Andrews in The Princess Diaries
8. Jane Fonda in This is Where I Leave You
She had huge boobs and men were flocking over her while they sat shiva. That's a hot Jewish grandma for you.
9. Susan Sarandon in Tammy
It's absurd to think that Susan could even be old enough to be Melissa McCarthy's grandma in a movie because she still looks so awesome.
10. Tyler Perry as Madea
Sorry, but he spends most of his life dressed like a grandma. We should give him some credit here.
Previous
Next
BEGIN