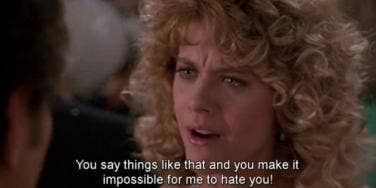 Get ready to swoon.
There are many things that make romantic movies memorable. One is a cast with chemistry. There's a reason why Meg Ryan and Tom Hanks have repeatedly played romantic partners—their chemistry is electric.
Secondly, the couple has to go through some type of conflict. Sometimes the purpose of this is to build up to a pay off where the couple reunites. Sometimes it leads to their demise.
Lastly, the audience will only swoon in their seats if the writing in the rom-com is impeccable, which brings us to those amazing "I love you" movie speeches.
Speeches can really make or break a movie's success. If the speech contains clichés, it becomes a laughing point rather than an emotional moment for the audience.
The 10 speeches we collected are so moving that they could make you tear up instantly. Some of them are quoted repeatedly, some are iconic but all of them make us wish our boyfriends were just as good as these guys are with words.
So go ahead and flip through the most moving "I love you" speeches we've ever heard.
1. When Harry Met Sally
"When you realize you want to start the rest of your life with somebody, you want to start the rest of your life as soon as possible." -Harry
Photo: We Heart It
2. Tootsie
"I miss Dorothy." -Julie
"You don't have to. She's right here. And she misses you. Look, you don't know me from Adam. But I was a better man with you, as a woman... than I ever was with a woman, as a man. You know what I mean? I just gotta learn to do it without the dress. At this point, there might be an advantage to my wearing pants. The hard part's over, you know? We were already... good friends." -Michael
Photo: Tumblr
3. The Notebook
"We're gonna have to work at this and it's not going to be easy it's going to be very hard. We're gonna have to work at this every day, but I wanna do that because I want you." - Noah
Photo: We Heart It
4. The Fault In Our Stars
"I am in love with you. And I know that love is just a shout into the void, and that oblivion is inevitable, and that we're all doomed, and that one day all of our labors will be returned to dust. And I know that the sun will swallow the only Earth we will ever have. And I am in love with you." -Gus
Photo: We Heart It
5. Notting Hill
"I'm just a girl standing in front of a boy asking him to love her." -Anna
Photo: We Heart It
6. Love Actually
"With any luck, by next year - I'll be going out with one of these girls.
But for now, let me say - Without hope or agenda - Just because it's Christmas - And at Christmas you tell the truth - To me, you are perfect - And my wasted heart will love you - Until you look like this. Merry Christmas." -Mark
Photo: We Heart It
7. My Best Friend's Wedding
"Michael, I love you. I've loved you for nine years. I've just been too arrogant and scared to realize it, and, well, now, I'm just scared, so - I-I-I realize this comes at a very inopportune time, but I really have this gigantic favor to ask of you. Choose me. M-marry me. Let me make you happy. Oh, that sounds like three favors, doesn't it? B-but..." -Julianne
Photo: We Heart It
8. Jerry Maguire
"I love you. You... you complete me. And I just..." -Jerry
Photo: We Heart It
9. 10 Things I Hate About You
"I hate the way you talk to me, and the way you cut your hair. I hate the way you drive my car. I hate it when you stare. I hate your big dumb combat boots, and the way you read my mind. I hate you so much it makes me sick; it even makes me rhyme. I hate it, I hate the way you're always right. I hate it when you lie. I hate it when you make me laugh, even worse when you make me cry. I hate it when you're not around, and the fact that you didn't call. But mostly I hate the way I don't hate you. Not even close, not even a little bit, not even at all." -Kat
Photo: We Heart It
10. Bridget Jones's Diary
"I don't think you're an idiot at all. I mean, there are elements of the ridiculous about you. Your mother's pretty interesting. And you really are an appallingly bad public speaker. And, um, you tend to let whatever's in your head come out of your mouth without much consideration of the consequences... But the thing is, um, what I'm trying to say, very inarticulately, is that, um, in fact, perhaps despite appearances, I like you, very much. Just as you are." -Mark
Photo: We Heart It
Previous
Next
BEGIN