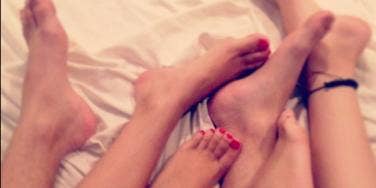 Only 2 percent of women have gotten it on with two dudes... and it was a one-time thing.
So many women are put off when they hear their guy bring up a threesome when initiating sex — including myself — but not for the reasons you may think.
It's not because I find threesomes to be an oversexualized fantasy that primarily men have (which may be the reason for other women), but mostly because I begin to overthink the act.
Who should it be with? What will it be like? Will he enjoy sex with her more than me? Will I enjoy it?
But truth be told, having a threesome is actually a major sexual fantasy of mine as a naturally curious woman. The mere thought of it gives me the VTs — i.e. the vagina tingles, as my freshmen roommate once put it — as we speak. I couldn't possibly be the only one. I mean, really, once you get past the stigma that threesomes have held for so long, you just can't tell me that it doesn't sound even just a little bit hot.
But, as hot as it is, how much do you really know about threesomes?
We've put together a list of ten surprising facts every woman should know about threesome sex — from the "proper" terminology to straight-up research data. (Did you think that a threesome is every guy's ultimate sexual fantasy? Think again.)
Comment below and share your threesome experience, whether it never made it out of the planning stage or it was fully-executed, we want to hear about it.
photo: weheartit.com
1. Threesomes Are NOT A Top Sexual Fantasy
This just in, threesomes are on the sh*t list! The University of Michigan conducted a sexual fantasy survey for women — and threesomes were ranked at the bottom. Who would've guessed?
Photo: WeHeartIt
5. No, Not All Men Share This Fantasy
6. Younger Women Are More Likely To Participate
A survey found that women ages 18-24 and 35-44 were more than four times as likely to have been in a threesome than those 65 and older.
Well, I'm glad to know the chances of my grandma breaking a hip in part to her participation of a threesome isn't so likely (but I'm going to knock on wood).
Photo: WeHeartIt
7. A Threesome With 2 Men And 1 Woman Is Called ...
A devil's threesome! Hey, what can you say? Some like to dance with the devil and others like to have sex with him.
Photo: WeHeartIt
8. And Women Are NOT Into It
We already learned women aren't too crazy about threesomes in the first place. But a MFM (Male-female-male) arrangement? According to a study, that's nowhere near their sexual bucket list. Only 2 percent of women said they'd already had an MFM (and all had reported only having one such experience).
Why? Researchers suggest that a threesome with two men is much more of a social taboo. Some women don't even want to have casual sex with one guy — let alone two. Plus, this type of threesome comes with both physical safety and power dynamics concerns.
9. Ménage A Trois Means .. Not What You Think
10. Want A Threesome? There's An App For That
Looking for a third person to join you and your BF or looking for a hot couple you can third-wheel it with just got a whole lot easier with 3nder. It's like Tinder — but for threesomes. See what you're looking for? Swipe right and set it up.
Photo: weheartit.com
Previous
Next
BEGIN