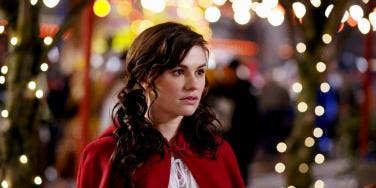 These celebrities are masters of (spooky and silly) disguise.
Listen: Halloween is the best. I've never met anyone that doesn't like Halloween, and if I ever do, I'm going to punch them right in the neck. And then again in the face. In case you couldn't tell, I'm very passionate about my love for Halloween. Why wouldn't I be? Halloween has all the candy, the spooky stories, the scary movies and even my neighbors' dumb kids being gone most of the night.
Halloween costumes are the best part, though, because you get to hide behind a mask or a cape and maybe use a silly voice, and for one day, no one can judge you. Halloween costumes are especially great because you get to learn so much about people based on their disguises. The choice of character, how they create the costume, how much skin they show, whether they commit to the characters' traits, whether they go for gory, scary or silly: It's very informative and a fantastic look at the character behind the costumed character.
Even celebs love to get in on the Halloween fun. Because they like having fun, they love attention, they're used to dressing up — and also because they fear my wrath. (I'm very intimidating for a guy with red hair.) Here are some of the best celebrity Halloween costumes from the last few years ... for various reasons.
Ed Sheeran
The Ginger Prince got literal.
Neil Patrick Harris and David Burtka
Neil Patrick Harris, David Burtka and their tykes are better than all of us, as seen here in their Peter Pan-themed costumes ...
Neil Patrick Harris and David Burtka (again)
... And here in their Wzard Of Oz-themed costumes ...
Neil Patrick Harris and David Burtka (yet again)
... And here in their Munsters-themed costumes ...
Neil Patrick Harris and David Burtka (again still)
... And here in their Alice In Wonderland-themed costumes. Guys, stop making the rest of us look bad.
Iggy Azalea
Even Iggy Azalea's Halloween costume was "Fancy." And probably more genuine than her fake southern accent.
Demi Lovato
In real life, Demi Lovato came back from rock bottom. On Halloween, she came back from the dead.
Hugh Hefner and Crystal Harris
God, you guys. Just stop. You're already gross. Don't make it worse.
Paris Hilton
You know you're making poor life decisions when Paris Hilton can wear your outfit and look classier than you do. Miley Cyrus, get help.
Snooki and JWoww
The Jersey Shore stars Snooki and J-Woww went as drag queens, and it just looks like they were having a lot of fun.
Miley Cyrus
So, this is Miley Cyrus dressed as Lil' Kim from an old VMAs appearance. Back then, it was a pretty crazy dress. These days, it looks like Miley decided to wear something tame.
Kim Kardashian
Sometimes I forget that Kim Kardashian is probably an awful person, especially when she does things like this.
Katy Perry
In a surprising turn, Katy Perry decided to wear an actual Halloween costume and not walk around basically naked.
Jennifer Lawrence
That's Jennifer Lawrence dressed as a fat witch. Because she likes to be scary and silly.
Heidi Klum
Heidi Klum showed everyone that there's more than just obvious ways to be scary on Halloween.
Ellen Degeneres
Ellen DeGeneres proved with this costume that Nicki Minaj is so hot, she's even hot when she has Ellen's face.
Beyonce
Beyonce dressed as an angel, because her rabid fanbase wouldn't let her dress as anything else.
Ariana Grande
This isn't the sort of costume I'd expect Ariana Grande to wear. Turns out, she's better doing Halloween costumes than she is at not sounding like a drunk person when she sings.
Previous
Next
BEGIN