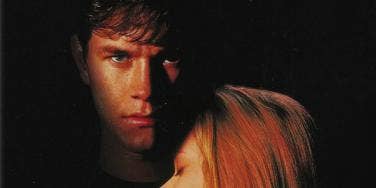 These are the worst celebrity boyfriends and husbands ever.
You know that wonderful girl who's dating a real jerk? The sort of guy who, if he was a wrestler, would be what's known as a heel (that's what wrestling fans call the bad guys)? Everybody hates this guy, but she keeps dating him. And you're like, Dude, why?
You want to say something to her about it, but then you remember that you can't. You can't, because she's a famous actress or singer or model and you don't actually know her as a person. You've seen her at the movies, and she doesn't even know that you exist, like most celebrities don't, but you still feel like you're besties. I totally get it, because I have the same relationship with Captain America and Spider-Man.
So what can we do when these ladies keep dating douchebags? We just have to sit back and watch it all unfold, unfortunately. There's nothing we can do about it. Except, you know, talk about it on the Internet in hopes that their Google alerts will let them know they're making a huge mistake. On that note, here's are some of the absolute worst celebrity boyfriends and husbands ever. (I'm confident that if I'm ever famous, I won't make this list.)
Floyd Mayweather
Floyd Mayweather slut-shamed an ex for allegedly having an abortion, hits women and hangs out with Justin Bieber. Seriously, why does anybody support this jackass?
Justin Bieber
Justin Bieber can't make up his mind about whether or not to be with Selena Gomez, so he hangs out in Brazilian brothels, gets arrested a lot and makes stupid ass faces like this one constantly. If he makes it past 21, he's not gonna age well.
Kevin Federline
Kevin Federline will get you pregnant, then gain a lot of sympathy weight and release "Popozao." He also poses with AK-47s, which is scary, because it's clear this guy doesn't shoot blanks ever.
Justin Timberlake
Justin Timberlake will release songs and music videos about how Britney Spears supposedly cheated on him when he's supposedly cheated on Jessica Biel left and right. Also, he just shouldn't be forgiven for The Love Guru.
Harry Styles
Harry Styles isn't the monster Taylor Swift makes him out be, but rest assured: After he's done promoting an album, he'll probably dump you.
Ashton Kutcher
Ashton Kutcher will tweet and cheat and also defend people like Joe Paterno. Good luck with that one, Mila Kunis.
Terrence Howard
Terrence Howard says women who don't use baby wipes after using the bathroom are "unclean." Just like his criminal record. Take a seat, bub.
Adam Levine
Adam Levine slut-shamed Lindsay Lohan, but this is the same guy who dumps women like Nina Agdal and Jessica Simpson over text. He doesn't seem like a beacon of morality nor integrity himself.
Wilmer Valderrama
This not famous anymore TV actor likes to kiss and tell about his barely legal conquests, bragging about his sex lives with Mandy Moore, Lindsay Lohan, Ashlee Simpson and more. But the worst part is that it's Wilmer Valderrama, and that's supposed to stay a secret shame.
Tiger Woods
When Tiger Woods cheats, he cheats with enough women to populate a small state.
Columbus Short
Did you know who Columbus Short was before his domestic violence arrests? No? Neither did we.
Sean Penn
Sean Penn once tied up and beat Madonna. Sean Penn cheated on Robin Wright left and right, and no one — no one — cheats on Princess Buttercup. He also talks about politics too much, which is just really annoying.
Leonardo DiCaprio
Leonardo DiCaprio is probably a perfectly nice boyfriend, until you turn 25. He likes his girlfriends "fresh," which is as creepy as it sounds.
Josh Duhammel
Josh Duhamel cheated on his wife Fergie, AND THEN MADE A BUNCH OF TRANSFORMERS MOVIES. What a monster.
John Mayer
John Mayer will tell everyone every detail of his relationships (remember when he called Jessica Simpson "sexual napalm?") and he might drop the n-word a few times. He's a goof like that.
Jesse James
Jesse James has pretty much cheated on every wife he's ever had. Also, he's probably a neo-Nazi. Anyone who dates this guy knowing that information deserves whatever they get.
Hugh Grant
Hey, Hugh Grant cheats and he pays for hookers on top of all that affable British charm. What a combo!
Eminem
If Eminem writes a song about you, don't ever listen to it. Trust me on this.
Chris Brown
Chris Brown guy ended up being the worst date to the Grammys ever.
Arnold Schwarzenegger
Arnold Schwarzenegger is a guy who keeps secrets. Walking, talking secrets, and he keeps them with interesting looking people.
Tom Cruise
Nicole Kidman said she'd been "to Hell and back" through her marriage to Tom Cruise. Katie Holmes, who won the role after Jennifer Garner refused to audition for it, has been quiet about it, probably because she's pushing it out of her memory.
James Franco
If you can read this, you're probably too old for James Franco.
Tom Brady
Tom Brady left his then-pregnant girlfriend for Gisele Bundchen, then recently said he throws tantrums to get his way. Add that to his dumb old Justin Bieber haircut and the fact that Gisele sent emails praying he'd win a Super Bowl and you can see why he'd be seen as an insufferable prick.
Rob Kardashian
Rob Kardashian cheated on Adrienne Bailon after she tattooed "Kardashian" on her butt, then slut-shamed Rita Ora for allegedly doing the same thing to him and blamed her for his massive weight gain even two years later ... even though she denied ever dating him at all. Klassy!
Previous
Next
BEGIN