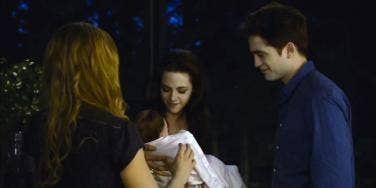 These stars really, really shouldn't have kids.
There are some people who are famous, but nobody really seems to like them. They just go around, doing the whatever the thing is that they do not very well, and somehow make a lot of money doing it. Or at least appear to make a lot of money. It's crazy. With the rise of reality TV, there are more and more of these celebrities every year.
It's like producers go around and find the worst people, and then give them a platform where they get to just be the worst. People always end up watching it. Or they find some musician who makes okay music, but goes around saying and doing stupid, violent and/or generally offensive things. Studies (that we made up) show that by the year 2024, all celebrities will be completely hated.
It's too late for today, but the future can still be saved. How? By making sure that the worst of the worst don't have kids. If we end the blood lines today, the future won't be full of dumb babies complaining to the camera about how they're not wherever they are to make friends. Here's our list of celebs who shouldn't be allowed to breed!
Rob Kardashian
Rob Kardashian is famous for being related to somebody who's famous for being famous. Also, he's sometimes fat (allegedly from sizzurp and the munchies) and frequently slut-shames his own sisters, as well as his exes. The future doesn't need his children, even if he did recently say he wants eight of them. Negative eight is enough.
Tori Spelling
Tori Spelling was famous because her dad put her in all of his projects. Now she's famous for her awful marriage. We don't need more of this.
Tara Reid
Tara Reid is terrible at two things: acting and preventing nip slips. A baby version of this would be horrifying.
The Situation
He's got abs. Nothing else about him is positive. Everything else he does is the worst. Other people have abs and aren't monsters.
Shia LaBeouf
Does this one even need to be explained? We also have to make sure that Shia LaBeouf doesn't steal a baby, because he loves to steal other stuff. Like ideas.
Paris Hilton
People need to stop spending their nights in Paris, or else there's going to be another one soon.
Kristen Stewart
Future humans will need to be able to close their mouths. Find one picture of Kristen Stewart where her mouth isn't hanging open, and she still shouldn't be able to have kids, because they may join show biz someday.
John Mayer
For humans to evolve, we need to move past douchebags. John Mayer is nothing but douchebag, so let's remove him from the gene pool right along with ex Katy Perry.
Katy Perry
The future doesn't need cheap-looking girls to steal songs from other musicians and then not get in trouble at all about it, Katy Perry. Especially when those girls have horrible taste in men, which would doubly screw over the gene pool.
Justin Bieber
Say whatever you want about Justin Bieber, but he's Canadian. So nope.
Honey Boo Boo
If Honey Boo Boo's heart hasn't exploded by the time she's old enough, she still shouldn't have kids. Her sister is doing more than enough as it is.
Chris Brown
Goodness, Chris Brown's babies would be so angry. Just no.
Carrot Top
They say redheads are going to become extinct anyway. If the species is going to survive, it doesn't need to come from Carrot Top.
Previous
Next
BEGIN