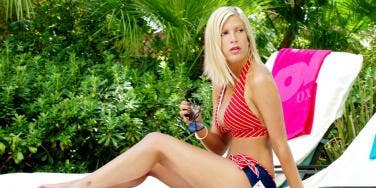 Can you say, #awkward?
Celebrities have a bad habit of tweeting TMI (we're looking at you especially, Kim Kardashian) and you don't have to reach far back into recent headlines for instances of A-list social media gone wrong.
For instance, remember last year when The Newsroom's Alison Pill had to apologize to her thousands of followers after she accidentally tweeted a topless photo of herself? Or a few years ago when Tori Spelling had a "whoops" moment when her hubby Dean McDermott posted a twitpic of their son Liam and a topless Tori in the background. In case you forgot, these A-listers showed some serious skin.
Photo: WeHeartIt
Alison Pill
Alison Pill Sent a Nude Pic to All Her Followers In 2012, Newsroom star Alison Pill apologized to her Twitter followers after she accidentally tweeted a topless photo of herself. "Yep. That picture happened," she wrote, fessing up. "Ugh. My tech issues have now reached new heights, apparently. How a deletion turned into a tweet... Apologies."
AnnaLynne McCord
AnnaLynne McCord Sent a Nude Photo of Herself by Mistake "This is for you @meganraee You rock! Xxx A," 90210's AnnaLynne McCord wrote to a Twitter follower in 2012, along with a peek at her nipple. Yeah that XXX photo was definitely a mistake. She later swapped it for a cropped version of the Twitpic.
Soulja Boy
Soulja Boy Took It All Off For Tumblr Soulja Boy let it all hang out in a 2012 Tumblr post, where he posted a pic of his nether region. In a follow-up Tumble, he wrote, "I apologize to ever [sic] seen that, accident."
Tori Spelling
Tori Spelling's Husband Tweeted a Naked Photo of Her In November 2011, Tori Spelling's husband, Dean McDermott, posted a Twitter photo of their son Liam — and his topless wife in the background. What a boob.
Previous
Next
BEGIN