Photo: WeHeartIt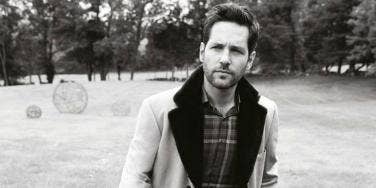 These guys are the whole package.
Chances are, if you ask anyone to name the top 3 qualities they look for in a potential partner, most would mention 'a great sense of humor' as an absolute MUST.
Everyone loves to laugh, and what's better than someone you find totally hot AND completely hilarious? (Pretty much nothing tops that). So it's no surprise men and women alike have a soft spot for sexy celebs who also have a streak of comedic genius.
Complex magazine compiled a list of hot women in Hollywood who are actually funny (their phrasing, definitely not ours), which inspired us to highlight the funny blokes out there who are actually good-looking.
While most of us lady folk are wise to the fact that laughs last longer than looks, we still appreciate a side of smoking hot with our hahahas. These funny men definitely fit the bill. Hey, if supermodels were hilarious, they'd be on this list, but really, who's that genetically blessed?
Even if some of these guys don't have perfect washboard abs, bulging biceps or the jawline of a Greek god, their humor makes their boy next door cuteness shine, and we can't help but swoon.
Without further ado, here are the men who make us sweat with their perfect combo of humor and handsomeness — we're sure you'll agree!
1. Paul Rudd
For a second, around the time he did Clueless, we thought Paul might be just another cutie rom-com actor. Then along came films like Wet Hot American Summer, 40-Year-Old Virgin, Anchorman and I Love You, Man, and the rest is comic history.
2. Ryan Reynolds
The Proposal star is most definitely funny and, much like wife Blake Lively, we wouldn't kick him out of bed.
3. Jason Segal
Don't you want to hang out with the How I Met Your Mother and I Love You, Man star all the time? Yeah, us too. And, after seeing his full frontals in Forgetting Sarah Marshall, we know why — because he wrote those gratuitous scenes in for himself, of course. What did you think we meant?
4. Seth Meyers
There was nothing hotter than watching Seth stifle laughs while delivering SNL's Weekend Update ... except maybe him getting laughs from the crowd as Late Night's current host. Success looks good on you, Seth.
5. Sacha Baron Cohen
On the rare chances that we catch him not in some crazy alter-ego costume, we're reminded that Isla's a lucky lady. This funny-man won us over back when he was just Ali G goofing on Euro politicos. Little did we know that a handsome man lurked behind those yellow lenses.
6. Adam Sandler
Ever since the Just Do It star sang about sloppy joes and Hanukkah on SNL, it's been love at first laugh. How could you not fall for that mischievous grin?
7. John Cho
John's charmed us since he played shy Harold Lee in Harold & Kumar Go To White Castle. We're not the only ones who love John — he's been on People mag's sexiest list. He also appeared in that minor sci-fi flick also known as Star Trek and in Nas' "Be A N*gger Too" video as an Asian stereotype lets us know he doesn't take himself or his good looks too seriously — always a good quality in a man.
8. Alec Baldwin
Er, do we mean Jack Donaghy? Because even though the show ended, Alec and his 30 Rock star are still one and the same in own minds. Classic looks and hilarity make "Jalec" a must on this list.
9. Eddie Murphy
Besides busting our guts with the likes of Delirious, Coming To America and Shrek, Eddie's good looks have helped him date the likes of Whitney Houston and ex-Spice Girl Mel B.
10. Jon Stewart
His baby blues, commanding voice and obvious brains make him hot. His performances on The Daily Show, his book and his cult following reveal him to be a rather funny guy, too.
Previous
Next
BEGIN