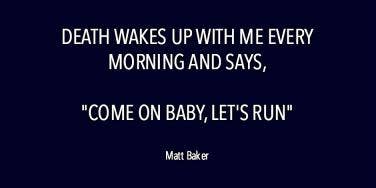 It's not the end.
Whether you are grieving the loss of a family member, coping with a break up, or dealing with a falling out with a friend, losing someone you love can be hard. When we deal with grief, it can make it hard to get through an entire week, one day, or even a few hours. Our minds tend to only focus on the loss in our lives, which makes it difficult to deal with much else.
Now, I am a firm believer that there are times when you just need to let yourself be sad. Shut your phone off for a few hours and let yourself cry. Eat an entire pint of ice cream. Let yourself think of that other person. But when those few hours (or days) are up, it is important to go back to that badass woman that you are — stronger than you were before.
Letting grief take over you completely is a recipe for disaster. It can be easy to get into that mindset every day, but when that happens, you are really losing the fun loving, happy part of yourself.
So, if you need some blunt words of advice, remember this: You will get through this. It might take some time, but there will be a day when the grief isn't as hard to deal with.
Until then, get into some comfy pajamas, get under the covers, and check out these quotes that remind us that the world isn't over just because we're going through a tough time. It might suck now, but it will get better before you know it.
---
If you're searching for the best quotes and memes to share with the people you love (or just want to feel inspired yourself) ... look no further! From the sweetest love quotes, inspirational sayings, and hilarious relationship truths, we've got you covered.
---
Kayla Cavanagh is an editor and writer living in Central Florida. When she's not feverishly obsessing over spreadsheets and grammar, she enjoys drinking margaritas by the pool, watching movies with her husband, Matt, and dancing with her kids in the living room.
Realize that this kind of friendship happens once in a lifetime.
"Sometimes you have to accept the fact that certain things will never go back to how they used to be." — Unknown
Know that you'll be forever changed. And that's OK.
"I am forever changed ... you will not be forgotten." — Unknown
That pain will stay, but it's important for you to keep on living.
"You were unsure which pain is worse — the shock of what happened or the ache for what never will." — Unknown
It's OK to grieve, but know that you should choose to LIVE. Harder.
"Do not stand at my grave and weep. I am not there. I do not sleep. I am a thousand winds that blow. I am the diamond glints on snow. I am the sunlight on ripened grain. I am the gentle autumn rain. When you awaken in the morning's hush I am the swift uplifting rush of quiet birds in circled flight. I am the soft stars that shine at night. Do not stand at my grave and cry. I am not there. I did not die." — Mary Elizabeth Frye
This world is beautiful and deserves to be experienced.
"There are so many beautiful reasons to be HAPPY." — Unknown

The ones you lost live on forever in your memories. They really do.
"From my rotting body, flowers shall grow and I am in them and that is eternity." — Unknown
You will always, ALWAYS miss your friend.
"I'll miss you forever, like the stars miss the sun in the morning sky." — Lana Del Rey
You'll come out a different person in the end of this.
"Everybody has gone through something that has changed them in a way that they could never go back to the person they once were." — Unknown
Talk about them. Laugh about them. Cry about them. It's OK.
"The life of the dead is placed in the memory of the living." — Unknown

Cherish the moments you still have on this earth with ones you love.
"Sometimes you will never know the value of a moment until it becomes a memory." — Dr. Seuss
One day you'll have to accept this is how things were meant to be.
"In the end, only three things matter: how much you loved, how gently you lived, and how gracefully you let go of the things not meant for you." — Buddha
You will never be the same, nor should you want them to be.
"The reality is that you will grieve forever. You will not 'get over' the loss of a loved one; you will learn to live with it. You will heal and you will rebuild yourself around the loss you have suffered. You will be whole again, but you will never be the same. Nor should you be the same, nor should you want to." — Elizabeth Kubler-Ross and John Kessler
Cherish your favorite memories about them. Even the annoying ones.
"You [will always] be my favorite pain in the ass." — Unknown
Accept that you'll ALWAYS feel like you have unfinished business.
"I have so much left to say to you." — Unknown
Know that when they leave, they take a part of you with them.
"You are my dearest friend, my deepest love. You are the best of me." — Unknown
You will miss them – and what could have been – forever.
"I miss you. Not in the cheesy, let's hold hands and be together forever kind of way. I just MISS you. Plain and simple. I miss your presence in my life. I miss you always being there for me. I miss my best friend." — Unknown
And sometimes the grief will come in waves - and hit HARD.
"My body literally aches at the thought of never seeing you again." — Unknown
A part of you dies with them, but something stronger emerges.
"I miss you when something good happens, because you're the one I want to share it with. I miss you when something is troubling me, because you're the one that understands me so well. I miss you when I laugh and cry, because I know that you are the one that makes my laughter grow and my tears disappear. I miss you all the time, but I miss you most when I lie awake at night and think of all the wonderful times that we spent with each other — for those were some of the best and most memorable times of my life." — Unknown
Some days it will just be harder to cope. But you'll keep on living.
"Not a day goes by that I don't look at your picture and smile. Or cry. Or both." — Dean Jackson
Love HARD. With everything you have. Every day.
"If we remembered every day that we could lose someone at any moment, we would love them more fiercely and freely, and with out fear — not because there's nothing to lose, but because everything can ALWAYS be lost." — Unknown
From this, you'll always be broken. But you'll also be stronger.
"And no matter what anyone says about grief and about time healing all wounds, the truth is, there are certain sorrows that never fade away until the heart stops beating and the last breath is taken." — Tiffany DeBartolo
Every time you wake, remember why it's so important to LIVE.
"Death wakes up with me every morning and says 'Come on baby, let's run.'"— Matt Baker
This will forever change you. Make it a good change.
"There are two types of pains. One that hurts you and the other that changes you." — Unknown
Understand that life is a lot shorter than you think. Make it happy.
"Life goes by fast. Enjoy it. Calm down. It's all funny." — Joan Rivers
We never know how much time we have left. Cherish it.
"The trouble is, you think you have time." — Buddha
And remember to never fear death enough to keep you from LIVING.
"I do not fear death. I had been dead for billions and billions of years before I was born, and had not suffered the slightest inconvenience from it." — Mark Twain
Previous
Next
BEGIN