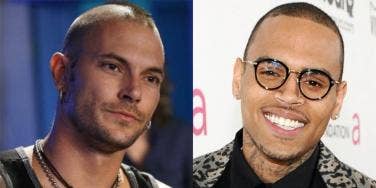 Tis the season to talk about naughty male pics.
This year brought the celebrity nude picture count up by a lot, but we've been focusing on all the women whose photos were leaked earlier this year, when in fact there have been plenty of men whose junk has been exposed for everyone to see in past years. (But because we live in a pretty sexist world, all of the attention only goes to female nude celebrities.)
However, most men seem to handle nude photo "scandals" differently. A majority of the guys own up to their penis pic and laugh it off with a sharp joke about themselves or they apologize for their actions and move on ... Unless you're Kevin Federline, though. Britney Spears' infamous ex is the latest to get hit with a naughty picture leak. TMZ posted the pictures that hit the internet just in time for some Thanksgiving cheer, but K Fed has been adamant about the fact that they are fake pictures. Maybe they are fake, maybe they aren't, but the last time someone cared about Kevin Federline's opinion was when jean skirts were in style (jean skirts are no longer in for those of you who can't seem to move on). So in honor of Kevin Federline's recent naughty pics, here are 10 guys who all have one thing in common: naked photos.
Kevin Federline
Oh K-Fed, just stop. There is a nude pic going around as of last week and Britney Spears' ex is denying that they are him. He is telling everyone that his penis is much bigger because he's a classy dude.
Photo: IMDB
Calum Hood
This never happened with 'NSYNC, but the latest boyband mishap came from 5 Seconds of Summer's Calum Hood whose dick pics surface on the web. He responded to the photos with, "Least ya know what it looks like now. I'm still just a teenage kid learning from mistakes."
Photo: Twitter
Pete Wentz
For all of us who grew up listening to Fall Out Boy's emo music, Pete Wentz's penis pics were a must see. However, instead of owning them, he was pretty embarrassed by the mirror pics where he is seen grabbing himself.
Photo: IMDB
Dylan Sprouse
Coming in with the best reaction to his own nude pics, Dylan Sprouse tweeted, "Whoops, guess I'm not 14 and fat anymore," followed by admitting the pictures weren't the best idea. "I messed up… but I'd be a fool not to own up to it. Got to move past it I suppose." But nothing beats his twin bro's reaction, "Cold in that bathroom huh?" Cole tweeted at Dylan. He followed that up with, "Now they've basically seen me naked, which is weird I guess."
Photo: IMDB
Josh Hutcherson
It's still unconfirmed whether or not Peeta posted his penis on a dating site under the name "Connor," but in 2013 that was the major gossip because that's such a Gale thing to do.
Photo: IMDB
Kanye West
Kanye was also proud of his naked pics that were leaked, except he was only upset with them not doing his penis justice, because it's Kanye. Did you expect any less?
Photo: IMDB
Prince William
Someone took a picture of him while he was peeing at a sporting event. Rule #1 of being a prince is finding a bathroom.
Photo: IMDB
Jamie Foxx
Okay, so he didn't take them for a lady friend and had a perfectly good excuse on The Tonight Show: "We were doing Miami Vice and I had to do a nude scene. So my makeup artist wanted to see the before-and-after, meaning, like, my body wasn't in shape and then we got it to that point, we wanna … but in transferring that material, I guess these people hang out on your Internet whatever, and they grabbed the picture and put it out there. So I apologize to my family."
Photo: IMDB
Jude Law
Jude got a lot of flack for his penis considering it looked pretty small in the picture that was released by PageSix. However, another picture of his penis under the pants surfaced just to show that hey, when it's erect it looks big. #penispolitics #growernotashower
Photo: IMDB
Previous
Next
BEGIN