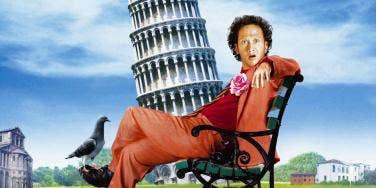 Lea Michele is dating a former male escort. Watch out, girl!
It's always hard to get back into the dating game when a relationship ends badly. Lea Michele's last relationship ended in the most tragic way possible when Cory Monteith overdosed and died last year. I can't imagine what that feels like, but we're happy to see that she took some time to heal, and now she seems happy with her current boyfriend, Matthew Paetz.
Michele Instagrammed a cute picture of her and her new boyfriend's shadows holding hands. In case you are wondering who her new boyfriend is, it's some model who used to be a male escort, otherwise known as a gigolo. So, yeah, there's that. It's still a cute picture. That's got to be weird, though, dating someone who used to charge people for his, ahem, "company."
But hey, it's nice to get something for free, right? It feels good when other people have to pay to get something, but you just get it on the house. A former gigolo, though? Here's ten reasons why it might not be a great idea to date a gigolo.
There's a lot of risk involved.
If you're dating a gigolo, then you might be dating Rob Schneider. Don't date Rob Schneider.
Photo: IMDB
Seriously, it might be Rob Schneider.
Sure, only one of the men in this picture is Rob Schneider, but do you really want to risk accidentally dating Rob Schneider?
Photo: IMDB
They didn't just offer companionship to their clients.
Hey, some people like to believe in fairy tales. Sure, he likes to say some people were just lonely and needed a date, but nope. That isn't true. It was mostly about gross sex with awful people. Sorry.
Photo: IMDB
Yes, he's done that.
Whatever you think "that" might be, he's done it. With whoever you really hope he hadn't done it with. Always remember that.
Photo: IMDB
It's more than just weird sex.
They didn't just have weird, unspeakable sex with people, they also had weird, unspeakable companionship with people. When just hanging out is weird and unspeakable, that's something that's hard to heal from.
Photo: IMDB
They've gotten more weird than you can ever imagine.
Look, if a woman with money is going to pay a guy for his "company," she's not just going to have regular old relations with the guy. He's been involved in some super weird stuff.
Photo: IMDB
They probably used to have a pimp.
Here's the thing about pimps: they're notoriously bad bosses. If you think your boss is a jerk, just thank God he's not a pimp. Pimps also aren't known for letting people quit. So there's also that to watch out for.
Photo: IMDB
They've dealt with the worst people imaginable.
Sure, there are a lot of lonely people who use escorts. But there are also a lot of terrible people who use them too. People that are terrible in the darkest, dirtiest ways.
Photo: IMDB
It changes their perspective.
Look, I'm not judging anyone for paying their rent. This is just such a weird job, of course it's going to have an effect on what people perceive as normal. Also, when you want to get lucky, it may feel like a day at the office for your partner, and that's just depressing.
Photo: IMDB
They're desensitized to weirdness.
They've seen and done things you don't really want to imagine. Not necessarily gross things, but still very weird things. If you see someone weird in public, there's a chance he's going to be like, "Oh, I remember her..."
Photo: IMDB
Previous
Next
BEGIN