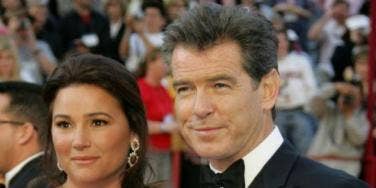 These Hollywood hunks love their women just as they are!
There's no shortage of beautiful women in Hollywood. With perfectly airbrushed skin, limbs so toned and tummies so taut, you'd think the leading ladies in Tinseltown were Photoshopped.
That's why we think it's refreshing to see that some celebrity guys aren't falling for the Barbie doll types. These famous gents adore their wives for their lovely lady lumps.
1. Pierce Brosnan
We love to drool over Pierce Brosnan as James Bond, but unlike his on-screen spy persona, this actor is a one-woman man. Even though his wife Keely Shaye Smith has struggled with her weight for years, it doesn't seem to bother Brosnan, who's only fallen more and more in love with her over the ten years of their marriage together.
"I fall in love with my wife Keely more every day," he once said to Italian magazine A. "Life is so complicated that love is the best antidote: it is a great way to exorcise tiredness, depression, also the fear of the aging. We don't have to be frightened by our feelings."
2. Hugh Jackman
Hugh Jackman may be People's Sexiest Man Alive from 2008, but this dashing Hollywood star has never forgotten to credit the woman supporting his success. Jackman adores his wife Deborra-Lee Furness and he makes it known to the world! (Just see his tweet gushing over his wife at the Golden Globes this year.) They've stayed together for 16 years despite fertility issues, beating out even the most committed celebrity couples. "Truly she's the greatest woman I have ever met," he said to Katie Couric.
3. Clive Owen
For English actor Clive Owen, Sarah-Jane Fenton has been his leading lady from the start. They met while playing the leads in a theatrical production of Shakespeare's The Two Gentlemen of Verona Romeo and Juliet and were instantly lovestruck. They got married in 1995 and have been together ever since. "[She] was playing Juliet to my Romeo," he recalled!
"I so value what I've got at home with my wife and kids that I've never f----ed with that," Owen once told Playboy. "For me, that's what it's about ... My relationship is everything to me. I'm often doing incredibly exciting plays and films, but that would mean nothing if I were floating around and didn't have a solid family behind me. Sarah-Jane is an absolute diamond."
4. Matt Damon
With Matt Damon, what's not to love? He's a triple threat as producer, screenwriter, and A-list actor. But hands off, ladies! Damon only has eyes for wife Luciana Bozan Barroso. "My wife is my soul mate. I can't imagine being without her," he said to The Guardian. "We like to do a lot of the family stuff together, particularly when we get them to school in the mornings. It starts at 6.30am. Once you get them off to school there's always a sigh of relief. Then we have one hour where we can go and get a cup of coffee together." These two sound, dare we say it ... normal? And she knows how to look perfectly amazing in her curvy figure. He can't get enough, and we don't blame him.
5. Robert DeNiro
It hasn't always been easy for Robert DeNiro and his wife Grace Hightower. The two married in 1997, but went their separate ways just two years later. It must have been fate that these two never finalized their divorce however, because they renewed their vows in 2004 and have stuck it together ever since. They've been notoriously hush-hush about their relationship, but we think it's refreshing to an actor dating a woman closer to his age. Don't you?
Previous
Next
BEGIN