... in GIFs!
As the trend of standout engagement photos continue, people are starting turn to their favorite romantic movies for inspiration. Recently cute photos of a couple who decided to recreate the powerful scenes of The Notebook surfaced, and they are as amazing as you would think. (Despite the heartbreaking news that Ryan Gosling wanted Rachel McAdams kicked off their set)
In order to keep the new photo trend going, we decided to come up with a few other scenes from romantic movies that would be perfect to recreate for engagement photos.
Casablanca's Sweet Ending
This movie will forever be known as one of the greatest love stories played out on screen. The chemistry between Humphrey Bogart and Ingrid Bergman is certainly the type of chemistry you would want in your engagement photos. With your significant other, dress in your best hats and look longingly at each other as if you are exchanging your last goodbyes to reference this scene.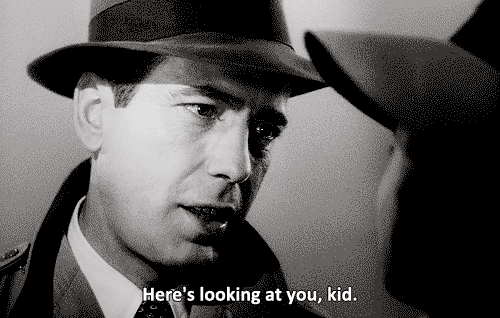 Breakfast at Tiffany's pre-party scene
Another classic that many people love is Breakfast at Tiffany's. There are so many scenes that you can imitate like the ending's kiss in the rain, but something that won't be as difficult to catch on camera is this scene right before the fabulous party Holly throws. Find a little black dress, accessories, and cigarette holder to get her look and get ready to pose!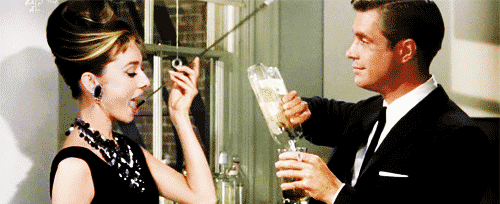 Grease's Drive-in Movie Scene
Again this movie has many scenes you can recreate from the beginning beach scene, Sandy and Danny's diner date, and of course, the ending where they dance in their leather outfits. However, there is something so cute about drive-in movies that will make your friends and family nostalgic from your pictures. This is an especially good idea for car lovers. The fact that Danny actually gives her a ring in this scene is also a plus since it will give you reason to show off your bling while still staying true to the movie.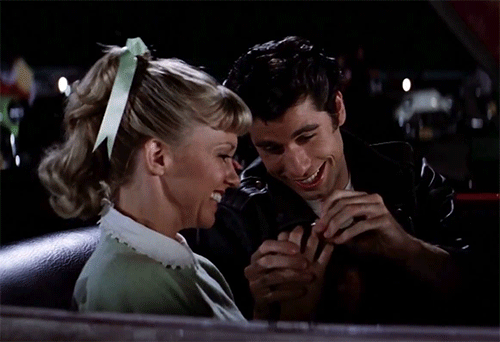 Fault in Our Stars' Headphones Scene
The recent tearjerker has certainly made an impression on movie audiences. There are so many touching things about this film, especially the beautiful love quotes. However, the simple scene of Augustus and Hazel listening to music together is pretty adorable and very easy to recreate. Couples who are music lovers should definitely keep this in mind.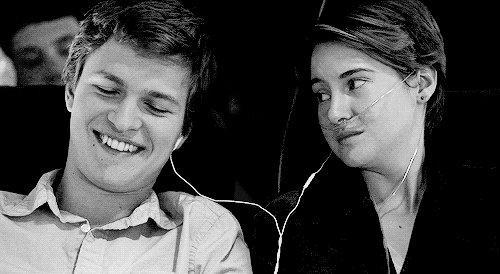 Never Been Kissed's Baseball Kiss
Who doesn't love the adorable Drew Barrymore? In Never Been Kissed you root for her as the underdog who never really got to experience love. The kiss on the baseball field definitely is the ultimate pay off, and would be great to recreate for engagement photos for baseball lovers. Ladies, wait on the pitcher's mound for your significant other to come and kiss you like it's your first time!
West Side Story's Fire Escape Scene
Find a fire escape now in order to recreate this touching scene between forbidden lovers! This musical has so many great moments from its singers and dancers, but the fire escape scene is very special and would capture beautifully on camera. If you put the extra effort to recreate Maria and Tony's clothes, it will instantly take family and friends back to the touching scene.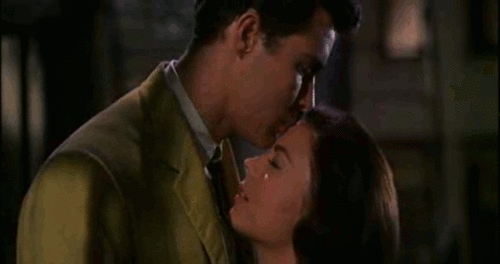 An American In Paris' Lift Scene
This 1951 ballet has such beautiful partner work between Gene Kelly and Leslie Caron that after watching any couple would want to imitate it! Many couples like doing the "piggy back" pose for pictures, but this stunning scene of Gene carrying Leslie is much more romantic. This would definitely be a great pick for a couple who dances.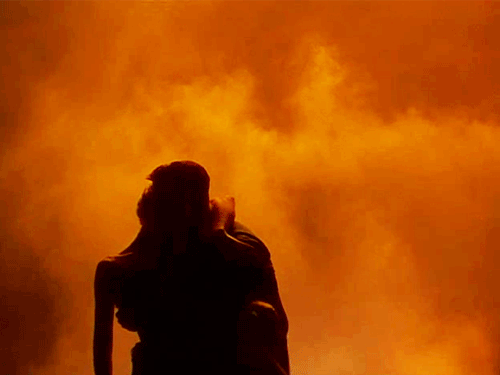 A Place in The Sun's Pool Scene
This playful and flirtatious pool scene between Elizabeth Taylor and Montgomery Clift is not only great to watch, but probably fun to recreate. Pick out a white dress to not only give a peek into what's to come, but also to copy Elizabeth's classic beauty. Find a billiards table and watch your significant other play for some great shots!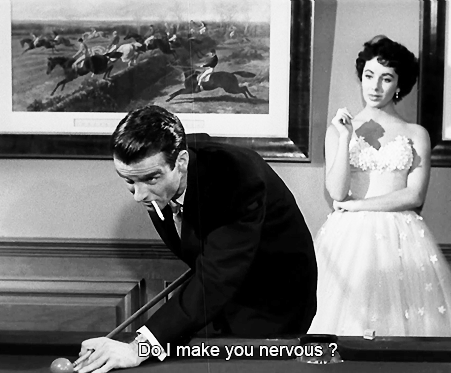 Portrait of Jennie's Ice Skating Scene
This 1948 supernatural love story is a great story to take a few pointers from. Put on a lovely winter coat and hop on the ice for a fun day of shooting your engagement photos. Be careful not to fall.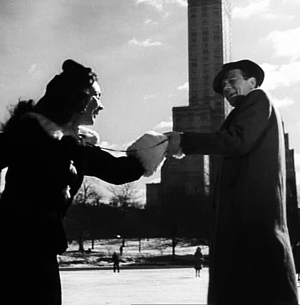 10 Things I Hate About You's Painting Scene
Oh, Heath Ledger, we will forever miss you! This fun take on Shakespeare's Taming of The Shrew has many fun scenes including Ledger serenading Julia Stiles. Give a nod to this cute movie by getting messy with your significant other by throwing around some paint at each other then make out in hay!