After diamonds, cats are a girl's best friend.
Sometimes, you just can't help imagining your boyfriend was someone else. Brad Pitt, the sexy guy from the gym, your most loyal fuzzy friend. That's right, we started wondering about what would happen if your cat asked you out (yeah, it gets weird in our office sometimes). Check out eleven cats who got all gussied up, just to take you out.
Hipster Cat wanted to take you out before it was cool
Fancy Cat will treat you right
's Damsel-in-Distress Kitty might slow you down.
Beach Bum Cat will get tropical with you
This little guy is ready to rock you
Wizard Kitty wants to whisk you off to Hogwarts (and who could say no, with that face?)
The Dark Cat will slay all your enemies
This guy might have something to prove
Librarian Cat just wants to stay in
Don Quixote Kitty will defend you to the end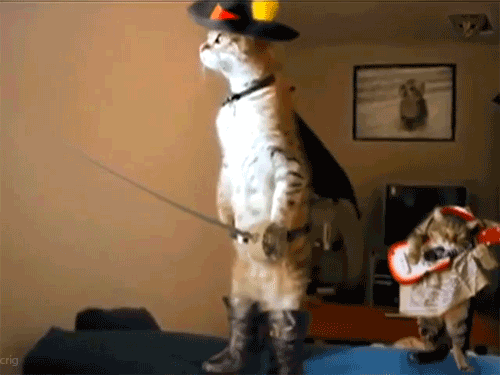 Stop! Do not date this guy Something tells me he's bad news. Go back to Don Quixote, and you'll be fine.