Photo: Glamour
It's going to take some SERIOUS work to top these costumes!
Everyone loves that time of the year when it's time to start thinking about what you're going to dress up as for Halloween. One of the best parts about picking out a costume is that you can go solo or plan something big with your friends, and there're TONS of options for both.
It can be SO hard to find good costume ideas that aren't massively played out (like pirates and witches) and without having to go as something absurd like "sexy corn" (YES, that is a thing and NO ... don't look it up).
That is why the Internet is a gold mine for costume ideas and not just because Google search exists. Anything remotely crazy IRL can be put on the Internet and become a viral sensation by the end of the day. And TBH, we'd rather talk about how many Pizza Rats and Left Sharks we saw at the Halloween party instead of trying to remember who wasn't dressed up like a vampire.
If you are the type of person who likes to dress up as something new every year, (I do too!) then consider this list your guide to All Things Halloween. Instead of scouring the Internet for something original enough and emulates your style, take notes from some our favorite viral sensations and cosplays.
The best part about these costume ideas? You don't have to spend an arm and a leg to get the look (well, for most of them anyway). Sometimes, the best part about Halloween is flexing those creative muscles and putting together an outfit using only a bed sheet and a wig.
So whether you're eating your weight in candy or getting drunk in a Cat Woman costume (or both — no judging here), make this Halloween one that you and your friends will want to top the next year and the year after that.

Tumblr
Photo: Daily Mail
Red from Orange is the New Black
Red never looked so cute and non-threatening!
Photo: pinimg
Regina George from Mean Girls
All you need for this one is a prom dress, some flowers... and a back brace. The perfect Mean Girls costume!
Photo: totalsororitymove
Kylie Jenner
Halloween doesn't have to mean scary costumes; you can go as the stylish Kylie Jenner with her mint green hair and a white jumpsuit.
Photo: Today
Minions
This costume is great for children, adults, and everyone in between who loves Minions.
Photo: A Geek's Blog
Breaking Bad
The best part about dressing up like characters from Breaking Bad is that there are so many costume ideas to choose from.
Photo: ACParadise
Bob's Burgers
Dress up as the Belcher family from Bob's Burgers with your 4 closest friends or alone as your favorite character.
Photo: The Garment District
Pizza Rat
This costume is perfect for couples who want something fun and original to wear.
Photo: Facebook
Guardians of the Galaxy
Groot, Rocket Raccoon, and Thanos are great group costume ideas for kids. The movie has so many unique characters that you can get everyone involved!
Photo: Oddee
Harley Quinn
You don't have to be female to rock an awesome Harley Quinn costume; and you know we'll be seeing a lot of these this year after Suicide Squad was released.
Photo: pinimg
Rey from Star Wars: The Force Awakens
Dress up as Rey, aka the baddest bitch in the galaxy, this year for Halloween. Bonus points if you bring BB-8 and Finn along with you.
Photo: Glamour
Ghostbusters
A Ghostbusters costume is perfect for you and your friends, and we love it even more when it follows in the new movie's footsteps with an all-female crew.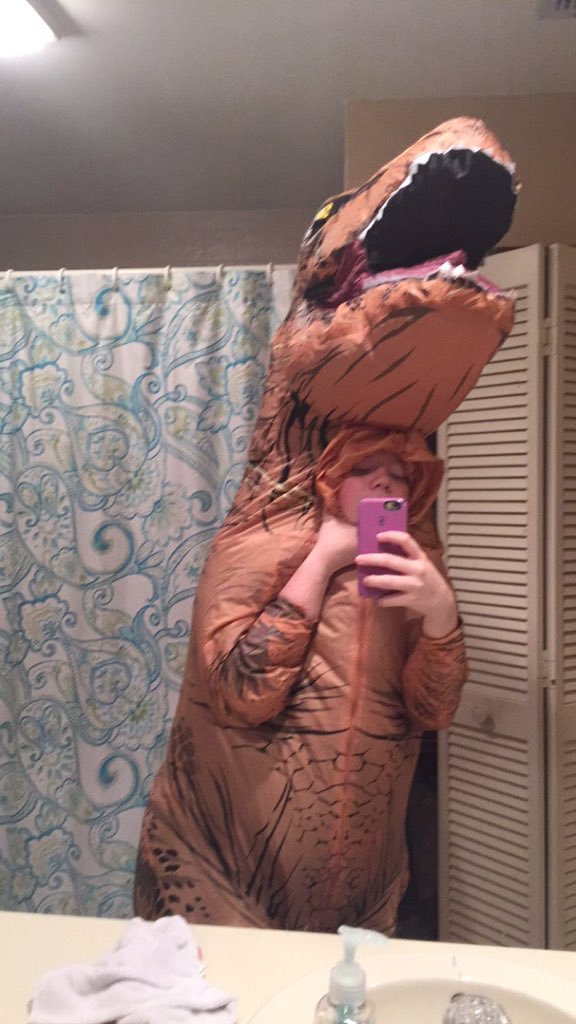 Photo: PBS
Inflatable T-Rex
Inflatable costumes are easy and this one is perfect for Jurassic World fans.
Photo: The Daily Dot
BB-8 from Star Wars: The Force Awakens
The cutest girl in the galaxy is dressed up like BB-8 from the new Star Wars movie. Put on roller skates like her and become BB-SK8; how cute!
Photo: SquareSpace
Emoji Girls
A simple, yet totally original costume idea for you and your best friend.
Photo: Justin & Mary Blog
The Hangover
Get the whole family involved with perfect Hangover costumes.
Photo: Twisted Sifter
Paralympian Josh Sundquist
Sundquist has been killing the competition for best Halloween costume for years and each one is better than the last.
Photo: Hollywood Life
Kim Kardashian Paper Magazine cover
Kelly Ripa tries to Break the Internet in a replication of Kardashian's Paper Magazine cover photo... Who did it better?
Photo: YouTube
Disney's Aladdin
The costume itself is great, but add a skateboard or hover board and prepare to have the coolest costume this year.
Photo: Lace and Whimsy
Mia Wallace from Pulp Fiction
Combine sexy and scary with a Mia Wallace costume; extra points for the syringe in the chest.
Photo: Ripleys Believe It or Not
Rocket Raccoon from Guardians of the Galaxy
The award for the best handmade costume goes to this mom who made the coolest Guardians of the Galaxy Halloween costume for her son.
Photo: culturemap
The Dress
Remember when this whole thing totally pissed you off? Well now you can make yourself the topic of discussion this year!
Photo: 9gag
Netflix and Chill
Don't even pretend like this isn't the best costume you've seen. There are so many other variations of Netflix and Chill, too, so everyone will have their own take on it.
Previous
Next
BEGIN
like us on facebook If you 'like' us, we'll LOVE you!