4 Celebrity Babes And Their Bodyguards
By Jen Jones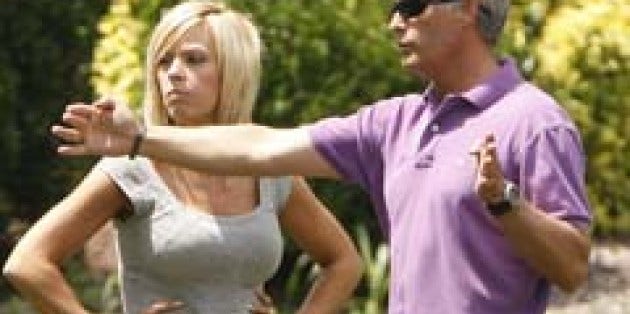 Has all of Hollywood gone boy crazy for their bodyguards?
Cue Whitney Houston music: half of Hollywood appears to be shacking up with their bodyguards. And who could blame them? Having a big, burly hunk of love by your side providing 24/7 protection could certainly be addictive. That's probably why rumors like these are nothing new—in recent years, everyone from Amy Winehouse to Britney Spears to even Beyonce has made headlines for supposedly puckering up with their protectors. And of course, there's Princess Stephanie of Monaco, who married and divorced former bodyguard Daniel Ducruet after he pulled a T-Pain and fell in love with a stripper.
Yet a whole new crop of celebs seems to be following in their naughtily fraternizing footsteps, so we've compiled a list to help you keep track. Find out whose hired help seems to be taking their orders a little too literally:
Kate Gosselin: Ever since Jon left the picture, leaving just "Kate + 8," otherwise-married bodyguard Steve Neild seems to be picking up right where J left off—appearing on-camera and reportedly even going as far as disciplining her kids. Though they've been spotted together everywhere from beach vacations to the Dancing with the Stars soundstage, Kate has furiously denied the allegations. (Which include Neild advising her on what size boob job to get—hmm, does he have a stake in the matter? The plot thickens...) Is Kate Gosselin Looking Sexy For the Bodyguard?
Kim Kardashian: What better way to "keep up" with everyone's favorite Kardashian than to be glued to her side? Enter Shengo Deane, who recently did just that on her E! reality series as Kim's babelicious bodyguard. After several shirtless encounters (him, not her), the sexual tension hit a peak and Kim and Shengo had a kissyface moment for the cameras. Whether the dalliance was fact or fiction, we'll never know, but their encounter was steamy enough to plant the seed for Shengo's own development deal! Kim Kardashian Is "Down For Some Hook-Ups" In NYC