Ethan Hawke: My Life Is Like 'The Sound of Music'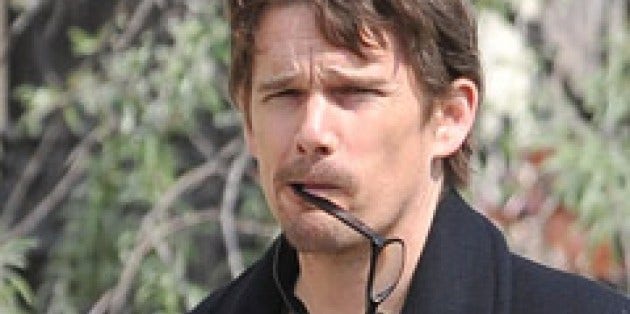 The actor claims that his nanny romance is less Jude Law-like and more Rodgers & Hammerstein.
Before we begin this story, does everyone remember who Ethan Hawke is? Before sliding into scandal-prone, near obscurity, Ethan Hawke used to be a bonafide A-list actor with leading roles in critically-acclaimed movies like Before Sunrise and Hamlet. He was also one-half of a Hollywood golden couple, having met and married his Gattaca co-star Uma Thurman in 1998. Sadly, like many a Hollywood husband, Ethan's eye reportedly began to rove and, amid allegations that he had an affair with Angelina Jolie, the couple divorced in 2004.
However, it turns out that Angelina wasn't the only girl he might have been cheating on Uma with. After his divorce, Ethan began publicly seeing his and Uma's former nanny, Ryan Shawhughes, whom he supposedly had a secret 2-year relationship with while he was still married! Ethan Hawke Cheated On Uma With Angelina Jolie
These days, Ethan is more likely to be found playing poker at charity benefits than making movies, and he recently gave a New York Daily News reporter the smack-down for suggesting that his relationship with Ryan, whom he made an honest woman of in 2008, a mere month before she gave birth to their daughter, is anything less than a Rodgers and Hammerstein fairy-tale musical. Ethan Hawke Talks About His Divorce From Uma
When the reporter asked Ethan if he thought there was a parallel between him and Jude Law, who also famously had an affair with his children's nanny, the actor answered:
"I don't know what the Jude Law comment was; I assume it was derogatory. But I'll tell you this," said Ethan. "I liken my situation to The Sound of Music, not to Jude Law." Ethan Hawke Dating Former Nanny