The Emmy's 9 Best-Looking Men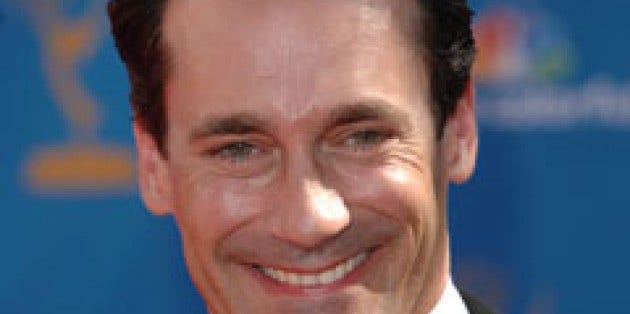 While the fashion critics were giving the ladies the once-over, we were ogling the men!
While the fashion critics will no doubt be picking apart the red carpet looks of the Emmy ladies this morning, we thought we'd turn our attention to the gorgeous crew of Emmy men. After all, seeing your favorite heartthrobs dressed up in a suit or tux, just makes it that much easier to imagine them walking down the aisle to marry you in your dreams, doesn't it?
1. Jimmy Fallon - Not only did he do a good job as the host of this year's Emmys, Jimmy actually looked good doing it! Whether he was posing on the red carpet in a navy Tom Ford tux, strolling around the audience, strumming his guitar in a crisp white T-shirt, or popping champagne at the end of the show in a James Bond-esque white suit, the 35-year-old comedian reminded us why we used to have a crush on him during his SNL days. It mist have been all of the "gym, tanning, and crunches" he claimed to do to prepare for the show.
2. Jon Hamm - When you're Don Draper-level handsome, all that's required of you at awards shows is to stand around and look pretty. Unless you're Jon Hamm. The Mad Men actor showed that he could do more than just brood on-camera and actually shook his groove thing for Betty White in the hilarious opening number. Handsome and funny...Sigh. If only his ever-present girlfriend, Jennifer Westfeldt, wasn't constantly by his side...9 Best Emmy-Night Couples
3. Peter Facinelli - We have no idea what Peter Facinelli, best known for playing Robert Pattinson's vampire dad in the Twilight series, was doing at the Emmy Awards, but, damn, did he look nice in his black suit and white tie! Posing solo on the red carpet (wife Jennie Garth was supposedly at home), Peter looked decidely un-vampire like with his naturally dark brown hair, black sunglasses, and healthy glow.
4. Stephen Moyer - Speaking of vampires, Stephen Moyer looked quite dapper posing next to and presenting with his new wife and True Blood co-star, Anna Paquin. But were we the only ones surprised when Stephen opened his mouth and a proper British accent came out, instead of Bill's southern drawl? We're still not used to it, but we have to admit that it adds another dimension to his appeal. Anna Paquin & Stephen Moyer Got Married
5. Ryan Kwanten - Another Brit, another True Blood hottie. Although Ryan didn't even bother to shave for the red carpet, we still think he looked great in his navy suit and cranberry-colored tie! Jason Stackhouse, you are one handsome devil!