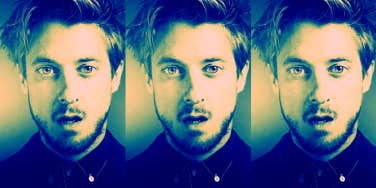 You can't make up this kind of crazy.
Couples argue. That's just the nature of the beast. Whether you're married, shacked up, or just dating, there will come a point in every relationship where all hell will break loose and it will feel like WWIII.
While fighting with your partner is actually really healthy for both your mental and emotional state, as well as the good of your relationship, sometimes their behavior can irk you so badly that you find yourself losing your cool over the most minor things. And before you know it you're not only attacking your partner over something completely absurd, but you're chasing them down with the most ridiculous of "weapons." Then all of sudden you're that person who threw a Twinkie (or something equally stupid) at your wife and you look like a total jackass.
Because stupid people attacking their partner with stupid shit over stupid things is pretty much what human beings excel at. Here are 10 examples of such stupidity that will force you to shake your head (because really that's all you can do) and be grateful it wasn't you (this time around) — so, here we go:
Photo: WeHeartIt
1. The Ceramic Squirrel Incident.
1. The Ceramic Squirrel Incident. In December of 2013, a South Carolina woman named Helen Williams went totally bat shit on her husband when he didn't come home from the store with beer. Doing what I'm pretty sure any of us would do in the same situation, she reached for her trusty ceramic squirrel and proceeded to stab her main squeeze with it. When authorities showed up, Helen told them that her husband fell and cut himself all while being covered in blood herself. Not only is Helen a ceramic squirrel-wielding beer fiend, but a horrible liar too.
Photo: WeHeartIt
2. The "Dog Got Served Before Me" Incident.
2. The "Dog Got Served Before Me" Incident. When his wife dared to give the family dog water before serving his dinner, New Jersey man Darryl Camp went after her with a machete ... along with a figurine from the fish tank. But before we peg Camp as some sort of abusive loon, we need to take a step back and realize he was just protecting himself from his wife — who, according to Camp's attorney, once tried to run him over with a car.
Photo: WeHeartIt
3. The Cheez-Its Incident.
3. The Cheez-Its Incident. In April 2012 after enjoying a delightful "Earth Day" concert, a Florida woman returned home to her menacing husband, Andy Gatz, who wasn't in the best of moods. For reasons that were not entirely clear, Gatz became enraged that his wife had gone to the concert so he hurled a box of Cheez-Its at her.
Apparently, the box was open because one of the delicious crackers nailed Gatz's wife in the eye, causing enough damage that the she needed to be treated at a nearby hospital. Gatz was arrested for assault ... with a cracker. Guess that's the way the cookie (or cracker) crumbles.
Photo: WeHeartIt
4. The McChicken Incident.
4. The McChicken Incident. When a 911 dispatcher in Des Moines, Iowa took a call from a pregnant woman, the dispatcher probably couldn't have guessed what they would hear next. What did the pregnant woman have to say for herself? Oh, just that her husband, Marvin Tramaine Hill II, had thrown a McChicken sandwich at her not once, but twice then proceeded to rub the bun on her face.
When Hill was interviewed by whotv.com about why he got in such a tizzy over the damn McChicken sandwich he explained, "There's nothing about the McChicken. I just ... some of them have like cartilage in them and I don't like them. It's not something that you want to wake up to and then see like, oh, my wife brought me a McChicken." Well then.
Photo: WeHeartIt
5. The Weekly Attack Incident.
5. The Weekly Attack Incident. Having suffered at the hands of his abusive wife for years, a Chinese man decided to take control of his abuse and allow his wife to attack him once a week. Mr. Zhang admitted to a local Chinese paper that he fell in love with his wife because of her "strong and independent temperament," so he sort of knew what he was getting into when he decided to marry the woman, don't you think?
Anyway, long story short, the dueling couple signed a contract in front of the wife's parents agreeing that once a week was the maximum times per week that she could pound on her husband.
Photo: WeHeartIt
6. The Fifty Shades of Grey Incident.
6. The Fifty Shades of Grey Incident. If you think back to 2012 really hard, you'll probably be able to recall that that was the year that Fifty Shades of Grey came out. You couldn't go anywhere without people talking about the book and suddenly you found yourself in awkward conversations with your mom, because yes, everyone and their mother was actually reading it.
Although it may have been the trend at the moment, one British man was far from happy to find his wife was so enthralled by the book so he decided his best bet was to smack her and douse her with an "unidentified" brown sauce. He was arrested, of course, and now has to live with the fact that the dude got so jealous over one of the most poorly-written books in the past decade that he assaulted his wife.
Photo: WeHeartIt
8. The Facebook photo incident.
8. The Facebook Photo Incident. When a Claxton, Tennessee resident, Lowell Turpin, noticed that his girlfriend had posted a photo of a man he did not know on Facebook, he had a bit of a breakdown. First he demanded to know who the man was, then he threw her computer at the wall and punched her face.
Naturally, Turpin was arrested and charged with assault, but who was the man in the photo that caused all the drama? It was none other than Mitt Romney. I mean, the man is pretty good looking for a Republican, so it kinda makes sense that Turpin would get a case of the envies.
Photo: WeHeartIt
7. The Farting Incident.
7. The Farting Incident. It was during a fight about money that a Florida man decided his best line of defense was to fart in his girlfriend's face which admittedly, would enrage anyone. However, his girlfriend, Deborah Ann Burns, wasn't having any of that low-blow behavior so she reached for an 8-inch knife and proceded to stab her boyfriend, you know, as people do. Burns was arrested and held on $50,000 bond ... over a fart. It's in those moments that you really ought to evaluate your life and ask yourself where the hell it went wrong.
Photo: WeHeartIt
9. The "White Day" Incident.
9. The "White Day" Incident. Just last month, on March 14th to be exact, a Japanese woman was arrested for trying to kill her husband because he didn't give her a gift on "White Day." By Japanese tradition, it's the women who give gifts on Valentine's Day; then a month later it's the man's turn to give their loved ones a little something special.
However, this particular man did not reciprocate and when the police arrived the woman, who was understandably pissed ― because come on, dude; you're supposed to remember that stuff ― was holding a tie quite tightly around her husband's neck, although she swore she wasn't trying to kill him (riiight, we totally believe you).
Photo: WeHeartIt
10. The Hat Incident.
10. The Hat Incident. After her husband refused to buy a hat for her in Nashville, one fine September day, Sommer Trent lost her cool and attacked the man. They were outside Jimmy Buffett's in Margaritaville when Trent took her husband's cowboy hat from his head, hurled it into the street, then viciously grabbed him by the throat in front of horrified onlookers. Trent was arrested and booked and we're guessing she never got that hat she wanted so badly.
Photo: WeHeartIt
Previous
Next
BEGIN