Photo: iStock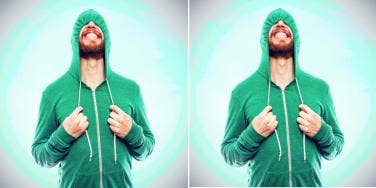 We're not saying nudging them out is easy ... but it IS necessary!
Congratulations! Your "baby" graduated from college.
You hung in there with them through tough professors, student loan paperwork, and the drama of supremely annoying roommates. But now that high-priced piece of paper is in hand and your now-adult child's whole future lies before them.
You're excited to see where they will go in life! ... Well, honestly, you're just excited to see them GO in general. As in — out of your house and out on their own.
BUT what if it's been two years since graduation and your kids are still sitting on your sofa and with their laundry occupying your dryer on the daily?
If this sounds familiar, you're not alone. Pew Research Center found, 53 percent of 18 to 24-year-olds still live with their parents or move back in with them, at least temporarily.
You love your kids, of course ... but the time has come. They learned a lot over the last few years and you helped get them there. But now your little ones are ready to leave the nest and start learning how to make their way in the world.
No worries! We have a few helpful tips to help you nudge them in that direction. Granted, they may not feel warm and fuzzy, but they're exactly what your kids need to take responsibility and succeed in life.
Of course, we know it truly is challenging out there for graduates, so it's fine to set a "by this date" deadline for meeting these "stand on your own two feet" goals.
1. Don't pay their cell phone bill
Wait! What? We all want our kids to keep in touch. Especially now that they're away from home! But does your desire to stay connected justify paying a bill they racked up?
Cutting the purse strings won't cut the lines of communication. Trust your relationship will remain intact whether or not you're footing the bill.
2. Resist the urge to pay off their credit cards
Put bluntly — paying off their credit card debt is is like handing a fat guy on a treadmill a pizza.
How do you suppose they got the huge bill in the first place? A) They spent way more than they can afford, and B) If you pay that bill it cycles your spend-happy kid right back to cycle "A."

3. Put your wallet away
If mom or dad is the "cash cow" you can bet your kids will milk that good thing for all it's worth.
Easy money is always more attractive than earning money by working hard for it. Endlessly footing the bill for every expense frees your kids up from planning ahead and budgeting their own money. Handing out cash to your adult child is kind of like the "serving size" on the bag of chips. It's very easy to lose track of how many times your hand goes in the bag. Nip that unhealthy habit in the bud NOW!
4. Let them pay for their car insurance
During high school most kids are oblivious to the fact that their parents paid insurance on the car they borrowed (and likely drove semi-recklessly). They knew it took gas money to get to the movies, but they had no clue somebody was charging their parents in case THEY (or anyone else) did something stupid.
Sure car insurance is expensive, but it's a stark reality of responsibly owning and operating a car. If they're ready for the freedom of having their own car and going wherever they choose — they're ready to pay for the insurance.
5. Charge your kids rent
Yes, we're serious. Look, we always want our kids to feel loved and welcome in their childhood home, but we don't want them to get so comfortable there that they become complacent.
Jotting down a "lease" agreement of sorts helps everyone understand some boundaries, if they need a place to land for a little while after college graduation. If you want to charge them a discounted rate, fine (that's mighty nice of you) ... but paying some sort of rent should definitely be a part of that agreement.
6. Put a bah-bye date in their "lease"
Sometimes your young adult kids truly exhaust all options, are between jobs, or have encountered an emergency situation and need to move back home. If that's the case, make sure you discuss a reasonable end date for their time there. Often a deadline is good motivation to take the next step.
Remember the film in science where the mother bird pushes her baby from the nest to encourage flight? You may need to sharpen your beak, Mom and Dad.

7. Avoid the temptation to control your child with money
Bribery and/or blackmail is never healthy. Don't give your child money in an attempt to control their behavior, i.e. "We'll give you this loan, if you come home more often."
If you decide to loan your child money, treat it like a business transaction not a conditional sign of love. Applying a little guilt to the bottom line might be tempting, but it's not fair. At the end of the day, your relationship with your son or daughter is worth more than any amount of money.

8. Don't enable irresponsible spending
Trying to relive your glory days through your son or daughter often shoves them deep into debt — or financial dependence on you. When you encourage them to hit every concert, buy a cool car, always look great, and take exotic trips to places you only dream about from your desk at work, you're likely fueling their irresponsible spending.
By all means, encourage them to "seize the day" and celebrate their youth, but not in ways that result their over-spending.
Previous
Next
BEGIN