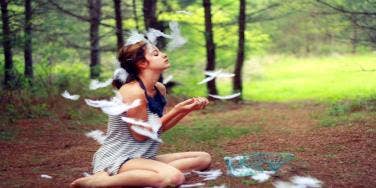 Divorce can be brutal. Here are a few inspirational quotes to help you rise above it.
Spending night after night crying at 3 AM, feeling exhausted, lost, and so very alone because your thoughts are racing like a hamster on a wheel, trying to resolve all the challenges you're facing now that you're going through a divorce? It feels HORRIBLE, doesn't it? Yes, but it's also completely normal and no amount of love quotes lists can fix that.
Despite your sleepless nights, you're probably holding it together during the day—maybe helping your kids grieve or adjusting to your own new normal, not to mention going to work.
Divorce is enough to turn anyone's life upside down and inside out. Everything changes when your marriage ends, and it's wanting to fix everything (immediately) that's likely keeping you up in the wee hours crying inconsolably.
As odd as it may seem, one of the best ways to slow your racing mind and comfort yourself during this challenging time is to recite a few inspirational quotes.
Reciting a quote is similar to reciting a mantra. It helps you focus your mind on one positive thought instead of a jumble of negative ones. A great quote/mantra calms your body by lowering your blood pressure, deepening your breathing, relaxing your muscles, and reducing your anxiety. It can also allow you to reconnect with your inner calmness that has probably been absent for a while.
Reciting a quote is different and better than simply saying "ohm" because it provides a specific sense of hope.
So, need a few inspirational quotes to help counter your divorce depression? Here are some of my favorites.
Hopefully, you'll find at least one quote that you like and will try tonight if you find yourself in the depths of despair.
It may not alleviate all the stress and worry of divorce, but it just might allow you to get something else you desperately need—sleep. And sleep is a miracle worker in helping you heal from divorce.
If you're searching for the best quotes and memes to share with the people you love (or just want to feel inspired yourself) ... look no further! From the sweetest love quotes, inspirational sayings, and hilarious relationship truths, we've got you covered.
Dr. Karen Finn is a divorce coach and advisor helping people who are considering divorce make a smart decision about staying or leaving their marriage. You can join her anonymous newsletter group for free advice or email her at Karen@functionaldivorce.com for a free consultation. Don't let the worry about divorce ruin your life, help is available as soon as you're ready.​
Photo: WeHeartIt
Nido Qubein
"Your present circumstances don't determine where you can go; they merely determine where you start."
Photo: WeHeartIt
Shiv Adhikari
"I will release the old, embrace the new, and grow a vision of hope."
Photo: WeHeartIt
Winston Churchill
"If you are going through hell, keep going."
Photo: WeHeartIt
Mandy Hale
"You don't always need a plan. Sometimes you just need to breathe, trust, let go and see what happens."
Photo: WeHeartIt
Napoleon Hill
"Every adversity, every failure and every heartache carries with it the Seed of an equivalent or greater Benefit."
Photo: WeHeartIt
Serenity Prayer
"God, grant me the serenity to accept the things I cannot change, the courage to change the things I can, and the wisdom to know the difference."
Photo: WeHeartIt
Cicero
"Where there's life, there's hope."
Photo: WeHeartIt
Sue Patton Theole
"I can courageously handle anything as long as I take it one moment at a time."
Photo: WeHeartIt
Neitzsche
"What does not kill me makes me stronger."
Photo: WeHeartIt
Previous
Next
BEGIN