Photo: WeHeartIt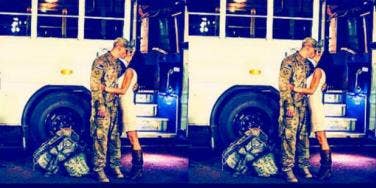 They're the masters of sustaining relationships through adversity. Here's how they do it ...
What's the longest you've ever been away from your spouse or significant other? Weeks? Months?
Regardless of how long, the wait for "that" day — the one circled on your calendar — just seems endless.
Of course, it's better when you can call or email, but that isn't always possible. Trying to keep your love alive in a long-distance relationship or while your partner is traveling for work strains the best of relationships. But there is one population of couples who experience "time apart" to the extreme — military families.
For example, submariners on the USS Seawolf recently returned from the North Pole after a two-month, undersea communications blackout. How on Earth did their relationships endure?
Military spouses/significant others are masters of the long-distance relationship. And since divorce rates in the military are at their lowest since 2005 (lower than civilian divorce rates, fyi!), maybe civilian couples should take a few notes from these courageous, resilient, and creative couples on how they keep love alive and thriving during deployment.
For clarity, "military spouse" applies here to anyone in a committed relationship with a military service member or veteran. Military spouses consist of men or women, LGBTQ or straight, formally married or not.
If you're a military spouse or partner, or military service member, you uphold ideals many of us aspire to as individuals (and relationship partners). Your civilian friends want to honor the inspiration that lives in your relationship. We need you as (and appreciate you for being) bold leaders in our communities. Your example rocks!

We know you miss your loved one when they're deployed. And we think the way you keep your love alive is downright amazing!
Here are 12 things military spouses do to keep the "home fire" in their relationships burning strong:
1. They're super-creative with communication
How do you let your spouse know that you care from 10,000 miles away? You get VERY creative!

What do you do when you can't sext? There's some great ideas here! Military spouses have limited time to show each other the passion and appreciation that's essential in healthy partnership. Whether it's being playful, silly and sexy over Skype, or just listening, giving tough advice, and being a loving "home base", military spouses find clever, unexpected ways to provide their deployed partners with a long-distance escape from some of the rigors of military service.
2. They keep passion alive ... for the relationship and its purpose
A strong undying fire burns in military spouses, for their partner and the cause their partner serves — both, physically and emotionally — it's anchored by conviction that their partner is doing exactly what he or she must do. Having a spouse you're attracted to in the bedroom and admire out in the world is hugely exciting.
3. They understand that patience truly is a virtue
When your spouse deploys, it can mean months of separation, and sometimes without any contact. Military spouses have what it takes to endure that without falling apart. Waiting for that next call home, not knowing what's happening to your partner from day-to-day, well, it takes a cool head and loving trust to hang in there. And, military spouses simply have the magic touch in the patience department.
4. They take loyalty to a new level
Military spouses share a deep loyalty towards each other. It's part of what animates their commitment to military service. In many ways, military couples serve together — one on the home front and the other on the battlefield. Loyalty to each other is a part of loyalty to their military commitment: Unquestioning willingness to put lives on the line for what they believe, as well as, their spouse.
5. They're supportive and strong
Seems obvious, doesn't it? A military spouse finds a deep and abiding inner strength to carry them through the days without their partner present. As a parent, the military spouse can literally do double duty during deployments. Military service members and their spouses are unusually strong people and supportive of one another. It's a big part of the teamwork that makes the partnership work.
6. They make the most of any situation
Your partner missing important life moments (like your birthday, anniversaries, even the birth of your children) is an unfortunate but understood sacrifice in military life. Rather than endlessly bemoan it, military couples learn to make the most of the time they spend together and figure out how to stay connected when they're apart. The ideal is sacrificed to "what is" and military spouses are masters at making the best of things.
7. They surround themselves with supportive friends
Military wives in particular live the truth of Madeline Albright's words, "There is a special place in hell for women who don't help other women." Military wives take care of their own, they understand and accept each other's differences because they're stronger as a unit. They choose carefully and surround themselves with people they can rely on, and vice versa — real, authentic person-to-person friendships. Guys, whether referred to as a "battle buddy" or a "brother from another mother," you know this works for us, too.
8. They're proudly patriotic
Active patriotism is willingness to sacrifice your own life to preserve your way of life for others. Military spouses give their best to their country and to their partner's effort to protect and defend that country. Together, they're part of the military team which is often a lifetime commitment to sacrifice, and to shouldering whatever wounds military service might bring. True patriots are rare, but many of them are military service members and military spouses. If your partner looks hot in uniform, you'll get this!
9. They're embrace their independence
Military spouses are self-starters — they're able and willing to pursue their own aspirations for career and education, and they persist to achieve their goals in spite of a sometimes-crazy lifestyle. Want a true go-getter on your team? Find a military spouse!
10. They love (additional) adventure
Along with being adaptable and flexible, a love of adventure really helps. When you and your family get orders to serve in a part of the world far from familiar friends and family, you meet that prospect with excitement! Adventurous lovers are amazing lovers ... 'nuff said.
11. They're leaders in their community
Whether it's helping kids of deployed parents celebrate during the holidays or showing support to LGBT service members, military spouses generally volunteer more than their civilian counterparts. Military spouses share a voluntary commitment to give their best and often take a leadership role championing causes or charities they care deeply about. Service members who return home to find their spouses serving this kind of "active duty" enjoy a sense of pride and honor that turns passion and appreciation up a notch higher!
12. They just go with the flow
A big part of military effectiveness is how successfully military couples "Roll With the Changes." There's a certain kind of person who does that well as a team member and marriage partner, and flexibility serves that person well since change is a present and constant part of military service. But while the circumstances around them change, what doesn't change is their love and devotion to their partner. And we salute that!
Previous
Next
BEGIN