Photo: WeHeartIt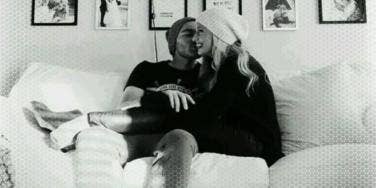 Warm up with this unexpected queue!
You really can't stay but, baby, it's cold outside! And the warmest thing to do inside is get under the covers, hold someone close, and cuddle. So, the next time he begs you to stay and snuggle, add a nice holiday movie to the mix. You need a holiday movie that's heartwarming and makes you feel as warm and fuzzy (and exciting and classic!) as that festive sweater you just bought.
Long story short, these winter days need heated nights … and mornings ... and afternoons. You get the picture. Point is, if you want that cozy feeling that usually comes with the impending holidays and chilly weather, you're going to need a little more than fluffy socks and a heat lamp. You'll also need three blankets, a snuggle buddy, some warm popcorn (caramel optional), maybe some indoor fairy-lights to really get that nice mood lighting. (Hey, we're just trying to lay out a perfect scenario to come home to after kicking off those freezing damp socks.)
And no, this list of holiday movies has neither Love, Actually or Serendipity. Nothing against them, but what holiday movie list doesn't have at least one those two? Well, this one, now.
Walt Disney Animated Studio's Short Films Collection (2015)
The holidays can bring out the inner child in all of us, and for days like this, a nice jumble of short cartoons is a great way to snuggle up with your kid-at-heart loved one and go through pretty much every emotion there is to offer. Sometimes cartoons are just necessary.
You'll love: All the feels
He'll love: All the cuddles he gets when you have all the feels
Friends
It's safe to say that a good chunk of us grew up with this amazing show, and could probably use a good binge watch after all of these years. If you love relatable comedy, then get comfortable with your babe on your couch and prepare for hours of laughs.
You'll love: The relatability
He'll love: The humor
The Princess Bride
A true love story, a comedic parody of said love story, and an adventure all wrapped into one. What more could you ask for? I mean, honestly, you can just watch this anytime. All the time. It's inconceivably great.
You'll like: The storytime feel
He'll like: The story in general
Howl's Moving Castle
For those days you just want to stare at something gorgeous (and maybe have to babysit too), this one's a great one for holding everyone's attention. Light hearted but powerful, this movie adds a little bit of magic and warmth to the air.
You'll like: The development
He'll like: The art
Casual
A new series to Hulu, Casual takes you along to observe three cynics navigate the realm of lost romance, divorce, and the struggles of online dating. The chill background music will be enough to get you comfortable, and the characters will keep you intrigued long enough to binge watch whatever's available.
You'll like: The story arch
He'll like: The characters
Planes, Trains, and Automobiles
Two guys get stuck in holiday traffic. Watching them struggle to get to their families, one hating the other the whole time, is somehow endearing, and all the giggles that Steve Martin and John Candy always manage to bring is definitely something to smile with under the covers.
You'll like: The humor
He'll like: The humor
Much Ado About Nothing
Based on the ever-popular Shakespeare play, this modern take on the move offers awesome filmography in black and white, and a clearer depiction of what those plays are even saying. It's a classic romance with some comedic value, and imagery you can get lost in.
You'll love: The story
He'll love: The presentation (and the story)
Crazy Ex-Girlfriend
Another new show to Hulu, this one has all the fun of a cheesy musical, and all the wit of an educated man or woman. Watch, relate, laugh, sing, think.
You'll like: The goofiness and social commentary
He'll like: The goofiness and social commentary
In Bruges
This action-comedy takes place in Bruges. It's chilly, it's humorous, and it's packed with twists and turns. It's just a fun (and kinda twisted) movie that you've gotta enjoy!
You'll love: The surprise
He'll love: The action
Home Alone
Another one to get back in touch with your inner child. It's safe to say that both of you probably watched this at some point in your life with your fantasies of independence! It'll be like being a kid again, but experiencing it with the person you love. What's better than that?
You'll love: The nostalgia
He'll love: The nostalgia
Previous
Next
BEGIN