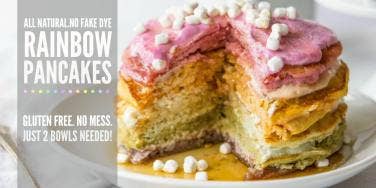 I'm a recipe developer. So I've seen cookies cooked in cookies. I've seen pie-flavored jelly shots. I've seen homemade pop-tarts stuffed with candy bars and And mason jars of cake, packed to the gills with a ribbony swirl of rainbow colors.
So, we decided to simplify. Why not create a recipe, a really simple, beautiful recipe, that offers up the same amount of eye-catching glory, without all the unnecessary...crap? And thus, this pretty-and-perfect, all-natural gluten-free Rainbow Pancake Cake was born.
You'll need two bowls, gluten-free pancake mix, a bit of baby food. And 20 minutes. That's it. Get your rainbow on!
RAINBOW PANCAKE CAKE
Naturally-colored pancakes use baby food to get their hue. (Yes, baby food!) This simple recipe takes less than 20 minutes to make and tastes absolutely delicious!
Serves 4.
2 cups gluten-free pancake mix
2 eggs
1 3/4 cups milk or water
5 bottles baby food (beet, carrot, squash/corn, green peas, blackberries)
1/2 teaspoon matcha tea (optional)
2/3 cup vanilla Greek yogurt
Nonstick cooking spray
Pure Maple Syrup
Mini marshmallows (optional)
Heat a nonstick skillet over medium heat. Spray with nonstick cooking spray.
In a large bowl, whisk together pancake mix, eggs, and milk. Transfer 1/2 cup of the batter to a medium bowl. Add 2-3 tablespoons of beet baby food. Whisk until combined. Spoon batter into hot skillet. Cook until bubbles form around the edges of the batter, then flip and cook on the second side until golden brown, about 1 minute. Remove pancake from pan and set aside.
Wash medium bowl out with water. Dry. Place 1/2 cup of batter in the bowl, add 2-3 tablespoons of carrot baby food. Repeat all steps above for this batch and for the corn/squash (yellow), pea (green), and blackberry (purple) batches, as well. NOTE: Add matcha tea powder, if desired, to give extra color to the green pancake.
Place purple/blue pancake on a serving platter. Wash medium bowl out with water. Dry. Whisk together 2 tablespoons Greek Yogurt and 1 tablespoon blackberry (blue) baby food in the bowl. Schmear yogurt on top of pancake. Repeat with all colors: green, yellow, orange, and pink.
Top with mini marshmallows, if desired. Slice and serve with maple syrup.
Rainbow Pancake Cake. No Dye. All-Natural.
If you've got 2 bowls and 20 minutes, you're ready to get your rainbow on!
Grab Some Baby Food.
Our all-natural rainbow starts here! Buy 5 bottles of rainbow baby food. I went with beet, carrots, squash, peas, and blackberries.
Tint Your Batter.
Mix up 2 cups gluten-free pancake batter, 1 1/2 cups water, and 2 eggs. Pop 1/2 cup of batter into a bowl and tint with 3 tablespoons baby food. Cook. Set aside. Repeat for each color.
Schmear with Yogurt
2 tablespoons of greek yogurt + 1 tablespoon of baby food together.
Rainbow Stack
Stack your pancakes, starting with purple first. Mix yogurt. Schmear. Clean bowl. Repeat.
Slice & Enjoy!
Once your pancakes are stacked, drizzle them with maple syrup. One batch serves four. Slice, share, and taste the rainbow!
Previous
Next
BEGIN