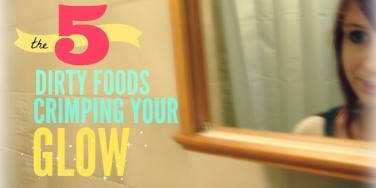 Your kitchen might be the cause of those nasty breakouts.
Look in the mirror. Go ahead, we'll wait. Is your skin dull, full of acne, or lined with wrinkles? The culprit could be lurking in your pantry. Getting beautiful, healthy skin is as easy as cutting back on these five big food offenders. Surprised? We get it. Connecting the food you eat to the skin you have can be tricky because there's usually a delay between nibble and pimple. So you keep eating what you're eating, then spend the next five weeks hiding your cheekbones under a hat, wondering why you can't get the zitfest to quitfest. (Corny, but we had to.) So, how do you break the cycle? First: identify the problem. While there are dozens of foods, chemicals, and meds that can affect your skin, we've narrowed the list to the top five that tend to really do a body bad. If you can cut back on these bad boys, chances are you'll see a glowing difference shortly after. Glow, baby, glow! Disclaimer: This information is not intended to replace the medical advice of your doctor or health care provider. Please consult your primary health physician for further advice.
1. Artificial Colors
Ever had Kool-Aid tongue? That bright blue mouth may be a funny party trick for kids, but artificial coloring is no laughing matter. The colors have no nutritional value, and they irritate your insides enough to cause inflammation. Artificial coloring has also been linked to eczema, allergies, and higher risk of some cancers.
2. Sugar
Your body turns sugar into glucose, which starts destroying your skin's soft-and-supple counterparts (collagen and elastin) through a process called glycation.
3. Gluten
Gluten is a protein found in grains such as wheat, barley and rye, and studies show that up to 80% of the population
may have some gluten sensitivity. If you've got bad breakouts, try eating gluten-free for awhile and see if it helps; those carb-ey snacks may be causing internal inflammation.
4. Dairy
Even organic cow's milk is full of cow hormones, which are absorbed by your body and remain active in the bloodstream, possibly contributing to your much-dreaded acne. If you suffer from acne, avoid dairy and pop a calcium supplement instead.
5. Processed Junk
Pop quiz: Whole grains versus refined grains: what's the difference?
Refined grains are stripped of fiber and nutrients to give them a longer shelf life. They're quickly digested, which causes a spike in blood sugar. This blood sugar spike results in an inflammatory response , which can manifest itself in breakouts.
Previous
Next
BEGIN