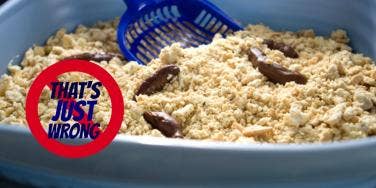 When trying to make food Halloween-themed goes TOO far.
Halloween parties are generally great fun: everyone arrives in cool costumes, spirits are up, hilarity is bound to happen! All looks splendid and spooky ... until you spot the party table, which is a spread of extreme, Halloween-themed gross-out recipes: meatballs that look like eyeballs, bloody brain jello, and the beyond, infamous "Kitty Litter Cake" for dessert. (No, I'm not making this up—I wish I were, though.) UGH. Now I'm not usually one to turn down a good (I'll even try my luck with a decent) spread, but, seriously, even us foodies have to draw the line somewhere. That being said, get this stuff off the menu people! Cake is made for platters, not litterboxes!
If you're prepping a Halloween party this year, do the world a favor and cross all of the following items from your menu; they're not cute-gross, they're just flat out (turn me off that entire meat genre) gross. If you don't have a filter for what's taking your Halloween spirit to the extreme, keep it simple and serve up some Pumpkin Spice Latte Cheesecake, instead—anything pumpkin to spare us!
Have you seen any gross recipes this Halloween season? Comment below and dish (no pun intended) about it!
Edible Skeleton
EDIBLE SKELETON RIBS Skipping these ribs will keep me so skinny, you'll be able to see MY ribs.
Previous
Next
BEGIN