Because you know you're a little bit magic.
I am obsessed with new makeup trends.
I may not wear makeup every single day of the week (I work from home, who am I trying to impress, my cat?) but when I do get a chance to, I like to go ALL OUT.
I am also obsessed with unicorns.
When I was a kid I made my mom rent The Last Unicorn so many times from our local video place that they eventually just gave it to her.
So when I learned that unicorn-inspired makeup was a new makeup trend, I knew it was a train I had to leap aboard.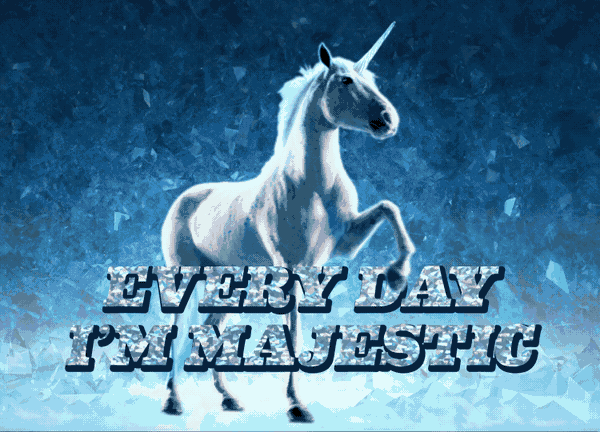 Giphy
What makes ordinary makeup unicorn makeup?
The key is in the shimmer!
Just like their mythical namesake, unicorn makeup invokes all things sparkly, shimmery, shiny, and iridescent!
You don't need to spend a fortune to look like a unicorn either!
I've rounded up some of my favorite unicorn beauty products to inspire you to jump into this new beauty trend, regardless of whether you want to go full-unicorn or just add a little bit of unexpected glow.
Unicorns might not be real, but unicorn tear lipstick TOTALLY is.
This iridescent lipstick is quickly becoming a cult hit! Make your lips shimmer, sparkle and shine with a lipstick so magical, unicorns everywhere are going to start getting lip injections just so that they can use them!
Make every day a little magical with these unicorn makeup brushes!
The best thing about these high quality unicorn inspired makeup brushes is that no actual unicorns were harmed in their creation. Bring magic to your every day life every single time you put on blush!
When you're a unicorn, you need a unicorn highlighter.
"Regular" highlighter is all well and good for a "regular" girl, but you're a magical unicorn princess! Let your magic shine with this tri-colored highlighter compact. This new makeup trend is all over, so if this compact doesn't appeal to you, keep looking, you'll find one that does.
Because a unicorn can ALWAYS use more sparkles.
These sparkles make for a great topping to nail polish, and adhere nicely to skin with makeup on it! Up your sparkle ante with this shimmer-tastic new makeup trend that will have all the non-unicorns out there green with envy.
A unicorn needs some place fun and sweet to store their makeup stash.
If you're looking for a place to store all of your favorite new unicorn beauty products, you'll be hard pressed to find one cuter (or more affordable) than this bag from Forever21. Did I mention that it's also got DONUTS AND DINOSAURS ON IT? Because it does.
Make your eyelids sparkle like a unicorn's horn.
I obsessed with this smooth, iridescent, unicorn-tastic eyeshadow! It's a cream, so it glides on easily, and for all you vegan unicorns out there, it's safe for you to use all you want!
You don't need to have a horn to pucker up like a real unicorn!
This lipstick's purple-pink shimmer would be enough to stop any unicorn dead in their tracks. It's a huge that makes lips look fuller too!
Carry your love of unicorns in your pocket with this little gloss kit.
You don't have to go over the top David Bowie glam to let your love of unicorns shine! This sleek moisturizing lip balm will let the world know where your heart really lies.
Paint your lips a different unicorn-color every day of the week.
Because one iridescent unicorn inspired lipstick isn't enough, pick up this amazing multi-hued set for less than 10 bucks.
Mirror, mirror in my hand, whose the fairest unicorn in the land?
What's better than a unicorn compact mirror to check out reflection? A unicorn SPACE mirror! I maybe just ordered three.
Unicorn blood runs through your veins, after all!
With a name like unicorn blood, you might be planning on running for the hills! But if you did that, you'd miss out on an AMAZING lip stain that will change your life like magic.