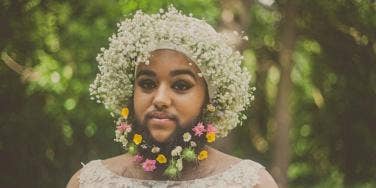 She's beautiful inside and out.
Harnaam Kaur is so much more than a bearded lady.
She is intellectual. She is a feminist. She is a model. She is a life coach. And she is an anti-bullying and body-confidence activist.
She is beautiful. (Need more proof, check out her Instagram!)
But most importantly, the 24-year-old British Sikh woman is confident in herself and won't let anyone put her down just because she looks different than the society norms.
Newsflash: Different is beautiful. Being unique and "standing out" is admirable.
Harnaam Kaur has unfortunately faced many bullies. She became aware of her condition, known as polycystic ovary syndrome, at 11 years old. She's been called every crude name in the book, received death threats, and been harassed so severely for her looks that she considered suicide.
She used to shave and wax — and basically do anything she could to remove the hair from her face. But thankfully Harnaam has accepted and embraced her own unique beauty, and along with that came happiness and positivity.
She's used her uniqueness (she's the current Guinness Book of Records holder for the youngest woman with a beard) to create a platform through modeling and social media to spread body confidence and self-love to other women.
Click through for 7 uplifting quotes from Harnaam Kaur to remind you to love yourself no matter what.
If you're searching for the best quotes and memes to share with the people you love (or just want to feel inspired yourself) ... look no further! From the sweetest love quotes, inspirational sayings, and hilarious friendship truths, we've got you covered.
Never let ANYONE body shame you.
Beauty comes from within <3
2. You have to feel beautiful. You have to feel love for yourself. You have to feel compassion for yourself. That's the turning point; internally you have to change first.
Love yourself
3. Never be ashamed of who you are, the love that you have for yourself, no one can take that away from you.
You are SO strong.
4. Never forget the power and strength you hold; it will help you every hurdle and you will be liberated.
Rise up.
5. A lot of people like to bring strong, empowered women down. I feel sorry for them.
Embrace your inner godess
6. Love yourself wholeheartedly and never be ashamed of what you look like. You are made to be perfectly and nothing less. Your body is a masterpiece, your body is your temple. Worship it, cherish it, and never allow anyone to violate it verbally or physically.
Women are powerful beings
7. As women we are incredibly resilient, compassionate, full of love, beauty, success, and we are thick skinned and able to soldier through hard times head strong.
Previous
Next
BEGIN